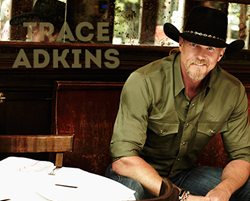 Bringing Louisiana's very own Trace Adkins to our stage is going to be a special night.
Charenton, LA (PRWEB) December 05, 2014
Cypress Bayou Casino Hotel announced today that Trace Adkins will headline in the Pavilion on Saturday, February 14, 2015. Tickets for the concert will go on sale Friday, December 5, 2014 at 10am.
"Bringing Louisiana's very own Trace Adkins to our stage is going to be a special night. In addition to being one of country's greatest showmen, he will also bring songs that fans know by heart. I look forward to hearing the crowd singing along to number one hits like ""No Thinkin' Thing", "Ladies Love Country Boys", "You're Gonna Miss This" and, of course, "Honky Tonk Badonkadonk," said Cypress Bayou General Manager and CEO, Anthony Patrone.
Adkins' trademark baritone has powered countless hits to the top of the charts and sold over 10 million albums, cumulatively. The Grammy-nominated member of the Grand Ole Opry is a TV personality, actor, author, spokesman for the Wounded Warrior Program and the American Red Cross, for whom he raised over $1.5 million dollars as winner of NBC's All-Star Celebrity Apprentice. As a dedicated supporter of the troops, Adkins has performed seven USO Tours.
His autobiography, A Personal Stand: Observations and Opinions from a Freethinking Roughneck, recounts the former oil-rigger's rise to fame, battles with personal demons and life as a father of five daughters. Trace played a tough as nails biker in The Lincoln Lawyer (starring Matthew McConaughey), he developed and hosted GAC's "Great American Heroes" and in December, he will host the American Country Awards on FOX for the fourth consecutive year.
Tickets for Trace Adkins go on sale Friday, December 5, 2014 and can be purchased at ticket master.com or Bizzute Gifts at Cypress Bayou Casino Hotel.
Trace Adkins lights up the Pavilion stage on Saturday, February 15, 2015 at 8:00p.m. Doors will open at 7:00pm.
About Cypress Bayou Casino Hotel
Cypress Bayou Casino Hotel is located in Charenton, Louisiana off of US Highway 90 and features over 1300 slots and more than 30 tables including Blackjack, Mini-Baccarat, Mississippi Stud, and 3-Card Poker just to name few. Phone 1-800-234-4386 for more information, or visit the website at http://www.cypressbayou.com.