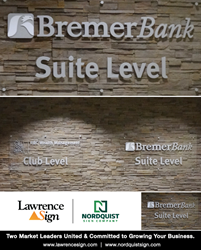 Lawrence Sign successfully managed our quick turnaround project on the Suite Level at the Xcel Energy Center.
Minneapolis, MN (PRWEB) December 05, 2014
In a timeframe of 23 days, Lawrence Sign designed, manufactured and installed a variety of aluminum pan signs, acrylic panels and digital prints which identified Bremer Bank as the Suite Level sponsor. The expedited project schedule allowed Bremer Bank to look great for the Minnesota Wild's Opening Night.
"To have our longtime customer, Bremer Bank, well represented at the Xcel Energy Center when the first puck of the season dropped was exciting for everyone at Lawrence Sign," said Robb Walker, CEO at Lawrence Sign. "We are proud to have helped Bremer Bank with the design and execution of its branding standards for more than 15 years."
Barb Brotherton, Senior Vice President, Regional Marketing Director at Bremer Bank said, "Lawrence Sign successfully managed our quick turnaround project on the Suite Level at the Xcel Energy Center. Bremer Bank's sponsorship was prominently displayed at the season opener of the Minnesota Wild!"
About Lawrence Sign & Nordquist Sign
For more than eighty years, Lawrence Sign has been assisting prominent companies to grow with new locations coast to coast with their multi-site sign program. Lawrence Sign proactively manages every aspect of their customers' sign programs including design, regulatory compliance, fabrication and installation and ongoing maintenance.
Lawrence Sign utilizes advanced technologies and expansive facilities to provide direct in-house control of the entire sign fabrication process. The Company excels at serving companies with a multi-site national and international presence.
Nordquist Sign has been fabricating and installing interior and exterior signage, architectural elements and way-finding signage for more than 100 years. Nordquist's customer base and scope of work includes custom signage and environmental graphics for hospitals, sports facilities, themed entertainment, corporate/financial and mass transit industries. Nordquist Sign also maintains a gaming division with offices in Las Vegas, NV and St. Paul, MN to serve casino gaming markets throughout the United States.
In early 2012, Lawrence Sign combined with Nordquist Sign to unite the unique resources and capabilities of the two companies. Together, Lawrence Sign and Nordquist Sign offer their clients more than 175 years of experience in sign manufacturing and installation for all facets of the signage industry.