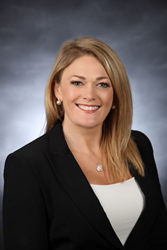 As rail transit becomes increasingly important in the region, Nikki's knowledge of the industry will prove invaluable to our transportation clients
SAN JOSE, Calif. (PRWEB) December 08, 2014
Nikki Jeffery, PE, has joined HNTB Corporation's Northern California rail and transit practice as a track engineer based in the firm's San Jose, California office. She brings seven years of experience in a variety of public and private sector projects, including light and heavy rail track design, specialty track work and transit station improvements.
At HNTB, Jeffery will serve Northern California transportation clients as design lead for rail improvement projects. Her responsibilities include all aspects of track design, including conceptual layout, alternatives analysis, final plans, specifications and estimates.
"Nikki's previous experiences as a design engineer on California transportation projects make her an excellent addition to our Northern California rail and transit team," said Dominic Spaethling, HNTB Northern California rail-transit market sector leader. "As rail transit becomes increasingly important in the region, her knowledge of the industry will prove invaluable to our transportation clients."
Prior to joining HNTB, Jeffery gained expertise in track design while working on projects for San Diego Metropolitan Transit System, North County Transit District and Sound Transit, among others. She has served as the design lead on a variety of high-profile transit projects, including San Diegui to River Double Track and Special Events Platform, in Del Mar, California; San Diego Trolley Station Low Floor Improvements; and Mid-City Rapid in San Diego.
Jeffery earned a bachelor's degree in civil engineering from San Diego State University.
HNTB, a leader in the California rail and transit industry, is currently preparing engineering and environmental studies for the California High-Speed Rail Authority's 800-mile rail program, which will eventually extend from Sacramento to San Diego. HNTB performed program-level environmental and engineering studies on the Los Angeles-to-San Diego segment of this high-speed rail program, developing a project management plan for the segment.
HNTB Corporation is an employee-owned infrastructure solutions firm serving public and private owners and contractors. HNTB's work in California dates back to its founding in 1914. Today HNTB continues to grow in size and service offerings to clients in California from seven office locations, currently employing more than 350 full-time professionals. Now celebrating a century of service, HNTB understands the life cycle of infrastructure and addresses clients' most complex technical, financial and operational challenges. Professionals nationwide deliver a full range of infrastructure-related services, including award-winning planning, design, program management and construction management. For more information, visit http://www.hntb.com.