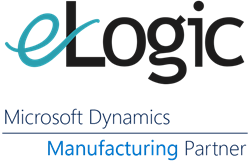 Since our origin, eLogic has remained relentlessly dedicated to solving every commerce problem, including the most difficult ones, faced by our manufacturing customers. Michael Shields, CEO
Victor, NY (PRWEB) December 08, 2014
eLogic, a B2B Commerce software consulting firm, has been named to the Microsoft Dynamics Vertical Industry Acceleration Program (IAP) for Customer Relationship Management (CRM) in Manufacturing. eLogic was founded in 1999 by manufacturing executives who recognized that their industry was under-served by generalist software and consulting firms that were incapable of meeting manufacturing-specific B2B Commerce needs. Since then, eLogic has pioneered numerous breakthroughs that have become industry standards; and the company continues to stay in front of the demand for these best-in-class manufacturing B2B Commerce and CRM solutions.
The Microsoft Dynamics Vertical Industry Acceleration Program for Manufacturing recognizes the Microsoft Dynamics partners who have demonstrated exceptional achievements within their vertical market. Key criteria include customer successes and complementary extensions to the core Dynamics software to meet Manufacturing industry-specific requirements. eLogic is one of only three partners recognized worldwide in the IAP for CRM in Manufacturing, among the thousands of Microsoft Dynamics partners globally. eLogic's Dynamics CRM practice enables manufacturers to accelerate sales, dominate their markets, and service their own customers with a seamless, integrated solution. Customers range from the largest global market leaders to emerging growth enterprises, all sharing the need for high-powered B2B Commerce and CRM in their served-markets.
"Our entire company takes particular pride in this very special distinction from Microsoft. Since our origin, eLogic has remained relentlessly dedicated to solving every commerce problem, including the most difficult ones, faced by our manufacturing customers. Our energy and creativity goes toward seeing these customers become industry leaders in their own markets. So, for us to be recognized by Microsoft for this success is most rewarding. It is a testimonial to the commitment of every 'eLogician' in our company. Today, through our Microsoft CRM practice we truly can offer the best solutions built upon the best technology platforms – and we look ahead to continued industry leadership together", said Michael Shields, CEO.
About eLogic. With a 100-percent focus in the manufacturing vertical market, eLogic is a recognized industry leading consulting firm specialized in business-to-business commerce best practices, technology leverage, and CRM implementation. Deep industry vertical experience includes solutions for customers who manufacture industrial machinery, process equipment and systems, engineered and configured products, and any companies challenged with complex product sales and complex selling channels.