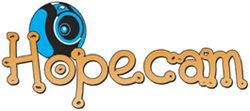 Reston, Virginia (PRWEB) December 08, 2014
In what many would describe as being the "Underdog," Hopecam, the Reston, VA based non-profit charity, is honored to be a finalist for the NVTC Technology Awards for Innovative Use of Technology.
Hopecam's competitors for the prestigious award include Booz Allen Hamilton, CSC, The MITRE Corporation, Monster Government Solutions, Optoro and TRX Systems.
Leveraging technology is at the core of Hopecam's mission that clearly states: Hopecam uses technology to connect children undergoing treatment for cancer with their friends at school. The science behind the need for connectivity stands firm, isolation is a major problem for children with cancer undergoing treatment and they need to remain connected to their friends. And, Hopecam's mission, utilizing technology to enable connectivity is our raison d'etre.
Given that Hopecam is leveraging modern technology in keeping with the times, we are able to connect more children faster for lower costs than ever before.
Early in our history, before iPads and Skype, entrepreneur Len Forkas connected his 9-year-old son with cancer to his friends in school. In 2002 it took a great deal of fortitude along with a ton of hardware. We were pre-PC for the most part. And even pre-docking stations! Everything was on a desktop with tons of hard wire and expensive cameras.
Fast forward to 2014 and the non-profit Forkas founded in 2003, Hopecam, is helping Children with Cancer in 32 states. Much to the thanks of "modern" technology: tablets; wireless connectivity; Skype; Logitec cameras which makes everything a ton easier, faster and less expensive.
Hopecam, a 501(c)(3) charity, provides tablets, pays for Internet access if the family is without, and works to persuade the school to establish a regular Skype video chat connection with the child. All services are provided free to families and schools thanks to the generosity of donors.
70% of the children with cancer connecting thanks to Hopecam are in Title 1 Schools. And, a significant number of the homes do not have wireless access. For many families, a mini-iPad and wireless connectivity are nothing new. That's not the case for many families served by Hopecam.
For additional information about Hopecam, contact: Executive Director Susan Koehler at 703.364.5606 or susan(at)hopecam(dot)org. Visit http://www.hopecam.org to learn more.