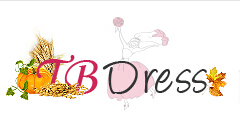 (PRWEB) December 18, 2014
Super Saturday is the last Saturday before Christmas, a major day of revenue for American retailers, marking the end of the shopping season they and many customers believe begins on Black Friday. (See more at http://en.wikipedia.org/wiki/Super_Saturday) Recently, Tbdress.com has updated its website with a new collection of sexy long sleeve dresses. Also, its trendy jewelry collection is offered at new low prices.
Now, customers can buy women's clothing and fashion accessories here at discounted prices, up to 85% off. An extra 10% discount is offered for any order of 2 items or above, i.e. people can buy hot-selling sexy long sleeve dresses on Super Saturday at low prices now.
"You can easily find many kinds of fashion bracelets, necklaces, earrings, rings and other jewelry sets which you like on our website. You can find your favorite ones, no matter delicate jewelry or cheap jewelry for Super Saturday, easily on Tbdress.com," the sales manager of the company says.
Tbdress.com is a famous dress company focused on making fashionable wedding dresses, evening dresses, prom dresses and more. Its dress collections with top-quality fabrics will never let customers down. The Super Saturday promotion is just in time for the holiday season, this glorious
One of its designers says, "We constantly improve our skills and increase our knowledge in the fashion industry. What's more, we always communicate with customers in order to meet customers' needs. Our hard work will give every customer a satisfactory shopping experience."
Tbdress.com has updated its website for the holiday season, and people can finish an order just in a few minutes. Tbdress.com provides a reliable online shop experience which is quite convenient for clients. It can save many shoppers time and money.
About Tbdress.com
Tbdress.com is offering extensive and stylish collections of wedding dresses and other special-occasion dresses at acceptable low prices, and its products include a wide range of wedding dresses, evening dresses, prom dresses, and more. They vow to provide trendy wedding dresses without sacrificing the dress quality. For more details, please visit Tbdress.com.