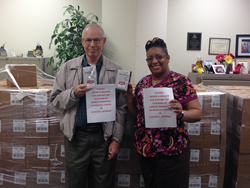 "We appreciate Books-A-Million and its customers in supporting our organization and the men and women serving in our armed forces," Amy Palmer, President & CEO of Soldiers'
Birmingham, AL (PRWEB) December 09, 2014
With the help of Books-A-Million and its customers, VA hospitals and deployed U.S. soldiers will be able to enjoy one of the simple comforts of home this holiday season.
In its third year, Coffee for the Troops has delivered more than 200,000 bags of Joe Muggs coffee to soldiers. This season Books-A-Million's customers donated a total of 45,480 bags and Books-A-Million contributed another 9,096 to bring the total donation to 54,576, exceeding the goal of 42,000. Customers left a personalized message expressing their support on the individual bags, which are then distributed to soldiers overseas and at VA hospitals by Books-A-Million's partner in this campaign, Soldiers' Angels.
"We appreciate Books-A-Million and its customers in supporting our organization and the men and women serving in our armed forces," said Amy Palmer, President & CEO of Soldiers' Angels. "This coffee will give them encouragement and allow them to experience a little taste of home wherever they are serving this holiday season."
The growth of the Coffee for the Troops campaign shows a commitment on the part of Books-A-Million and its customers to support the troops well into the future.
"It is fantastic to see our customers support this opportunity to give back to our soldiers through the Coffee for the Troops campaign. Our store associates have embraced it as well and are proud to have reached our goal for this holiday season," said Scott Kappler, Vice President of Marketing for Books-A-Million.
Through the Coffee for the Troops campaign, Books-A-Million is proud to help bring soldiers a small part of home each holiday season.
ABOUT BOOKS-A-MILLION
Books-A-Million, Inc. is one of the nation's leading book retailers and sells on the Internet at http://www.booksamillion.com. The Company presently operates 262 stores in 34 states and the District of Columbia.
The Company operates large superstores under the names Books-A-Million (BAM!), Books & Co, 2nd & Charles, and traditional bookstores operating under the names Bookland and Books-A-Million. Also included in the Company's retail operation is Yogurt Mountain Holding, LLC, a retailer and franchisor of self-serve frozen yogurt stores with 44 locations. The Company also develops and manages commercial real estate investments through its subsidiary, Preferred Growth Properties, which presently includes four retail shopping centers.
The common stock of Books-A-Million Inc. is traded on the NASDAQ Global Select Market under the symbol BAMM. For more information, visit the Company's corporate website at http://www.booksamillioninc.com.
Follow Books-A-Million on Twitter (http://twitter.com/booksamillion)