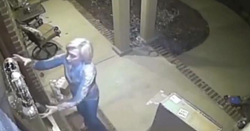 When I was younger we used to sleigh ride down the hill. She, [Davis] would come out with her sons and we would sleigh ride down the hill. She's always been an awesome neighbor, says Nicholas Angel.
Atlanta, Georgia (PRWEB) December 10, 2014
Homeowners in Cross Lanes, West Virginia catches a thief on their home surveillance camera that took their son's Christmas packages and a wreath from their porch, reported WSAZ News Channel on December 4, 2014. The security video footage shows Deborah Davis walking to the porch and taking a package only to return to look in the window, then checking the front and back doors to see if it they were locked, before she absconded with their wreath and another package.
According to the article, homeowner, Ryan Ruth placed the video on Facebook that quickly went viral was viewed by more than a half a million people.
The article also stated that the thief, Ms. Davis turned out to be a nearby neighbor who had been drinking and left her home due to a fight with her family. Initially the 63 year old claimed that she was with another women and the theft was a prank, later admitting it was a lie. Captain Brian Humphreys says, "Mrs. Davis later admitted that it wasn't a prank that it was a bad decision on her part and she felt very sorry about what she'd done."
Security Product Depot suggest the best place to mount security cameras are where a thief can see them, which deters a burglar from entering the home. An estimated 34% of home burglars' break-in through the front door. Placing the cameras on the eve of the house will help protect the camera from being disabled or broken.
Over 22% of home burglars use the back door as a popular place of entry because they can't be seen from the street. The same can be said for windows in the back of the home or those hidden by bushes. For additional protection, place cameras inside your home pointing at the window. You'll catch the thief's face as he or she peers in to see what valuables are in sight.
As an additional security measure, install heavy duty Grade 1 door locks on all doors and keep them locked at all times.
The Security Product Depot is an established online provider of physical security products and security information. They are committed to offering a broad array of the latest technology to help their clients protect their assets and property.