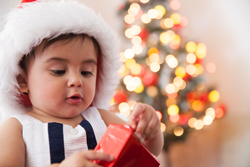 LINCOLN, R.I. (PRWEB) December 09, 2014
According to the Consumer Product Safety Commission (CPSC), there were more than 188,000 toy-related emergency room visits for children under the age of 15 in 2013. The CPSC also reports that the top three toys to cause injuries in all age groups were non-motorized scooters, toy balls and toy vehicles.
Prevent Blindness, a national eye health and safety group, named December as Safe Toys and Gifts Month to encourage consumers to take a second look at a child's wish list. Amica Insurance is sharing the following tips from Prevent Blindness to help find safe gifts this holiday season:

Toys made of fabric should be labeled as flame-resistant or flame-retardant.
Art materials should be non-toxic.
Avoid toys with long strings, cords or heating elements.
Sports equipment should always include the appropriate protective gear, such as a helmet for a bike.
Ask yourself – or the child's parents – if a toy is suitable for both the age and the individual skills and abilities of the child who will receive it. Every child is different, and what is safe for one may not be as safe for another.
About Amica Insurance
Amica Mutual Insurance Co., the nation's oldest mutual insurer of automobiles, was founded in 1907. The company, based in Lincoln, Rhode Island, is a national writer of auto, home, marine and umbrella insurance. Life coverage is available through Amica Life Insurance Company, a wholly owned subsidiary. Amica employs more than 3,300 people in 44 offices across the country. For more information, visit Amica.com.
CONTACT: Vince Burks, Corporate Communications, 50 Amica Way, Lincoln, RI 02865-1155, 800-652-6422, ext. 24563
Twitter: Amica
Facebook: Amica Mutual Insurance Co.