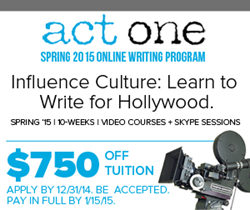 Los Angeles, CA (PRWEB) December 10, 2014
Screenwriting books are all the rage. Each one promises success. But few can deliver. Screenwriting is not just about formulas, as some of the authors would have you believe. It is an art form, one that can be taught if you have the right teachers and mentors.
Act One has been providing access to some of the best teachers and mentors in the world of screenwriting for 15 plus years. And they want to bring their famed writing program into your home. This spring, Act One is offering their world-class screenwriting course online. Over the course of 10 weeks, a writer can immerse themselves in 40 plus hours of video courses, Skype group writing sessions, and one-on-one exercises with a skilled professional. The goal: become a top-notch screenwriter.
Guiding the program is a veteran Hollywood professional who will walk students through courses covering screenwriting basics (plot, character, dialogue and structure) through more advances topics (the Theology of Story, Introducing Your Characters, and Plot Twists). You are sure to come away from the course with confidence, knowledge and the seeds of a feature film outline and/or treatment.
The program launches February 19 with a 3-day intensive writing workshop in Hollywood, California. Students will sit with Hollywood screenwriters, producers, and executives and engage in high-level discussions on film, story, faith and contemporary culture. Lectures and workshops will focus on the vision and creativity needed to succeed in today's Industry. They will leave spiritually challenged and refreshed, ready to dive into the 10-week video-based, Online Courses.
Right now, Act One is offering a discounted rate on the tuition. Apply by December 27, get accepted and pay the tuition in full by January 15, and you will get $750 off the current rate. On top of that, the registration fee is waived. Visit http://www.actoneprogram.com/writing-program/ for more information.
A dynamic organization, Act One has hundreds of its alumni working as producers, writers, agents, lawyers, and more. They are in the process of populating Hollywood with Christ-loving men and women, bent on being the light of Jesus Christ inside Hollywood's studio lots, film sets, and offices.
Act One is building a faith-powered community in Hollywood, advancing that community professionally, and going Global. Our vision is to see produced cinema, television, and digital media that respects and serves the global audience, combining mastery of craft with depth and substance. We encourage our Alumni, Faculty, and Community to deeply love and serve God and love and serve those whom they work alongside in the industry. Our Alumni are prepared for careers marked by integrity and excellence in writers' rooms, on sets, and in studio and network offices. In service of this vision, Act One offers a variety of educational programs including a Writing for Film & Television Program endorsed by industry insiders specifically for its Alumni and globally.
For more information, please visit http://www.actoneprogram.com or email Act One at information(at)actoneprogram(dot)com