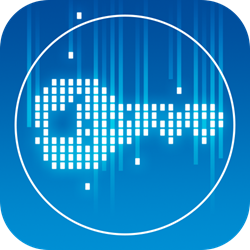 We've kept privacy in mind to the fullest degree. Your usernames and passwords are not stored on their device, in the app, or in the browser.
New York, NY (PRWEB) December 09, 2014
HyprKey, the Silicon Alley fintech and cybersecurity startup, launched today a free mobile password manager to acclimate people to a more convenient and secure login experience. The mobile app is intended for anyone who uses multiple logins across multiple platforms daily in their personal or professional lives.
The HyprKey mobile password manager is a separate product from the company's HYPR-3 biometric payment gateway, and focuses on redefining the process of logging into Internet accounts.
HyprKey gives users seamless, instant logins to multiple accounts across multiple browsers and multiple devices whether or not users own those devices. When used with the HyprKey browser extension, the mobile app allows users to take their Internet identity with them anywhere they go, without needing to remember or even type in their passwords.
Logging in with HyprKey seems simple enough, as presented in the accompanying visual.
The HyprKey password manager app has key features that separate it from traditional password tools. The app's corresponding browser extension is not native to any specific user, and can be accessed anywhere in the world to enable users seamless and secure login.
The HyprKey app can also accommodate an unlimited quantity of accounts users can add or log into at once. For example, users can log into HyprKey and then log into multiple Internet accounts almost simultaneously, with just a few taps on their mobile device screen. The speed of the app-extension duo's response mirrors the opening of a bookmarked set of browser favorites.
In addition, if a user misplaces their device containing the HyprKey app, he or she can terminate the account easily by logging on to http://www.hyprkey.com and requesting an instant account termination.
HyprKey is intended to allow universal keychain access across iOS, Android, Windows, OSX, FireFox, Chrome, Safari, and even Internet Explorer. It seems almost common sense that such a cross-platform authentication tool should exist – and yet one does not. HyprKey functions without the need for users to own anything but their main mobile device with the HyprKey app installed.
The HyprKey app is available for download free in the Google Play Store and on iTunes; the HyprKey browser extension is located in the Chrome Store. Future supported browsers will include Safari, Firefox and Microsoft Internet Explorer. When available these extensions will be located in the Mozilla Add-Ons Store and the Internet Explorer Gallery.
"The HyprKey app aims to put distance between yourself and the outdated login method of typing in a username and password. By removing manual password entry from the point of compromise – the login screen – HyprKey enables seamless authentication on mobile and desktop sites, for multiple accounts at once, without the need for third-party integration," said HYPR Corp. CEO George Avetisov.
Background
From a busy tech developer's standpoint, HyprKey software engineers identified a group of challenges associated with conventional software keychains and password managers.
First, conventional password managers are difficult to operate across multiple operating systems, without owning an account and integrating with the desired platforms. For example, users are unable to use their Apple Keychain on their Windows PC. Developers and entrepreneurs use a variety of operating systems, browsers, and apps and they currently do not have a way to use one master keychain for all of these.
Second, conventional password software is difficult to use on devices or terminals that users don't own. It is not possible to borrow a friend's computer and log into one's own accounts without bringing the borrower's keychain into the foreign system. Doing so would compromise future access to the borrower's accounts, so it is obviously not a good idea.
Third, and self-explanatory, is that browser-level keychains do not operate across multiple browsers.
Hyprkey solves these problems. The combination of the mobile password manager app and browser extension instantly offers users two-factor authentication at the point of login across multiple operating systems, browsers, and devices.
The HyprKey password manager app browser extension allows users to securely move authentication to the cloud, by splitting a password into multiple keys. A user's app contains one key, and the cloud contains the other key. When users scan the browser extension QR code, they signal the app to request their credentials from the cloud. By acting as a seamless two-factor authenticator, HyprKey combines Something I have (a mobile phone with app) with Something I know (a mobile device PIN or an optional app PIN). HyprKey performs this without requiring a user to authenticate separately for each account.
"We've kept privacy in mind to the fullest degree. Your usernames and passwords are not stored on their device, in the app, or in the browser. This information is encrypted and stored in our secure cloud infrastructure. Information required for login is not decrypted until you log in with the app and request a login for the browser extension. Credentials are not presented in any way that can be duplicated because the platform is based on decaying QR codes. You'll never see the same code at a future session," said Mr. Avetisov, referring to the attached HyprKey Authentication Visual Breakdown
In the wake of data breaches like the unauthorized celebrity photo release, many users want ultra-secure long passwords. Companies are introducing others in the online world to full biometric authentication to prevent these privacy invasions, as HyprKey is doing with its rollout of the HYPR-3 gateway in June 2015.
HyprKey is not a password generator, and through the app company executives are not telling users how to create or store their passwords. Rather, the HyprKey app is a way for users to present their credentials in an easier and potentially more secure way across multiple platforms and browsers. It is a fast, convenient, and fun login experience distinct from the conventional method of typing in a username and password.
For more information on getting started, the company has posted a detailed HyprKey Password Protection Software User Guide.
App Reviews
HyprKey is eager to hear from publications that plan to review the password manager app. HyprKey also welcomes inquiries from media and enterprise partners concerning the HYPR-3 biometric digital wallet gateway. Company representatives in New York (EST) will respond within 24 hours.