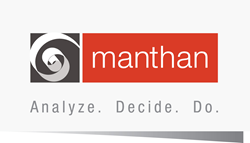 Survey results indicated high customer satisfaction levels for Manthan, especially in the area of grocery and supermarket retail - Joe Skorupa, Editorial Director RIS News
Phoenix, AZ (PRWEB) December 09, 2014
Manthan, the global leader in business intelligence (BI) and analytics solutions for retailers and CPG manufacturers, today announced that it improved its overall ranking to #6 in the "Top Vendors for Tier One Retailers" category in the RIS Software LeaderBoard for 2014, moving up three levels from its #9 position in the 2013 edition. This year the company also ranked #2 in the category for "Leaders in Return on Investment by Tier One and Mid-Size Retailers." Manthan was unranked in this category in 2013.
Manthan also ranked strongly in this year's "Leaders in Grocery" category, taking the #2 position overall (the company was unranked in this category in 2013). In addition, the company scored the #2 ranking in "Grocery Vendors by Customer Satisfaction," after having been absent from this category just a year ago. A total number of 373 retailers voted in the '14 RIS Software LeaderBoard, with 99 retail software vendors to choose from.
RIS News group editorial director Joseph Skorupa said, "The RIS News Software LeaderBoard represents the best of the best in retail software vendors. Survey results indicated high customer satisfaction levels for Manthan, especially in the area of grocery and supermarket retail, which contributed to rankings in this year's report."
Manthan's other notable rankings from the 2014 RIS Software LeaderBoard, include:

Ranking #5 in "Leaders in Total Cost of Operations" (did not rank in this category in 2013)
Registering the #6 position in "Leaders in Total Cost of Operations by Tier One and Mid-Size Retailers" (did not rank in this category in 2013)
Taking the #6 slot in "Leaders in Overall Performance by Tier One and Mid-Size Retailers" (did not rank in this category in 2013)
Ranking #10 in the "Retail Software LeaderBoard Top 20," up from #11 in 2013
"We are truly gratified by the growing recognition of Manthan as a software leader and innovator for the retail industry in North America, and worldwide," said Kevin J. Walker, Senior VP and GM Retail, Manthan Americas. "We believe Manthan has moved up so dramatically in the LeaderBoard rankings by always staying focused on retailers' needs, continuing to innovate, and creating powerful and easy to use analytics solutions that empower retailers to grow and win."
This year, the LeaderBoard included quotes sourced from survey participants, including, "All technology systems or software applications are just commodities, but it is the value add that Manthan brings with them, the industry know-how and the ability and willingness to share knowledge, which is most important to us."
Manthan will again have a major presence at the National Retail Federation (NRF) Convention & Expo that will be held January 11-14, 2015 at New York City's Jacob K. Javits Convention Center. The company will also be sponsoring a number of thought leadership and educational programs at this year's event. Manthan's booth number at the NRF Convention & Expo will be #3463.
About Manthan
Manthan serves as the Chief Analytics Officer for global consumer industries. Manthan's comprehensive portfolio of analytics products and services enable retailers and their supplier partners to understand and activate the customer's path-to-purchase journey. Architected with deep industry expertise, Manthan's solutions combine advanced predictive analytics, actionable insights and unmatched customer knowledge to help retailers identify and drive incremental growth opportunities. Manthan has provided its business-building analytics solutions to leading retail and CPG organizations across 21 countries. Visit Manthan at http://www.manthan.com.