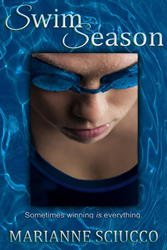 Swimmers, their parents, and coaches interested in joining Sciucco's street team are asked to contact her at mariannesciucco@gmail.com.
Middletown, NY (PRWEB) December 11, 2014
Indie author Marianne Sciucco is seeking club, high school, and college swimmers to join her street team to help publish and promote her new novel "Swim Season," the story of the new girl on the team who challenges a longstanding school record.
"A street team is a group of enthusiastic readers who help spread the word about a book to their own social networks both personally and via social media," Sciucco explains. "The idea is to build a buzz prior to publication and to boost the book after it hits the marketplace. Swim parents and coaches are also welcome to join."
Sciucco first enlisted the help of swimmers while writing the novel via Twitter. "I tweeted I needed swimmers to answer a few questions and several responded. I sent each one a questionnaire and their responses helped me write about the swimming experience from a swimmer's point of view."
Sciucco says her street team will have the opportunity to serve as advance readers and early reviewers. "This is a great opportunity to become part of a project that portrays swimming as the great sport it is. As a thank you, all teammates will be featured on my website and in the book's acknowledgements."
Sciucco, who has never swam competitively, penned the novel after years of sitting on the bleachers watching her daughter swim.
"Like so many writers, I wear many hats, one of which is called 'Swim Mom,'" she says. "I've shuttled my daughter to swim meets and swim practice for years, and now follow her across state lines during her college swimming career. All those hours sitting on cold, metal bleachers waiting to watch her swim for a minute or two gave me more than a sore you-know-what: It inspired me to write a novel about girls' varsity swimming."
Sciucco's goal was to write a story about the whole high school swimming experience. "I wanted to show others who may not be as familiar with the sport how much fun it is and how hard these kids work," she explained. "I started it four years ago and will soon have a completed manuscript. The plan is to publish in spring 2015."
The story is about more than swimming as its young heroine, Aerin, deals with the aftermath of her parents' divorce, a stepmother and two stepsisters she doesn't want, her mother's PTSD and drug addiction after two tours of duty in the Middle East as an Army nurse, and her best friend's cute twin brother. "And she's just started her senior year in her third high school," Sciucco says. "Aerin is a girl you will definitely cheer for." To watch a video about the book and read the first chapter please visit Sciucco's Pubslush campaign page. Pubslush is a pre-publication marketing platform that offers authors a way to build an audience, collect pre-orders, and provide start-up funds necessary to publish, distribute, and promote their work.
Swimmers, their parents, and coaches interested in joining Sciucco's street team are asked to contact her at mariannesciucco@gmail.com or through her website Marianne Sciucco's Adventures in Publishing.
About the Author
A lover of words and books, Marianne Sciucco dreamed of becoming an author when she grew up but became a nurse to avoid poverty. She later brought her two passions together and writes about the intricate lives of people struggling with health and family issues. Her debut novel, Blue Hydrangeas, an Alzheimer's love story, is rated 4.7 stars on Amazon and has more than 60 5-star reviews. A native Bostonian, she lives in New York's Hudson Valley. You can follow Marianne's Adventures in Publishing on Twitter, Facebook, Pinterest, Google+, and on her website.