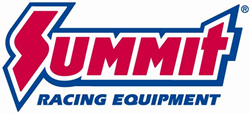 Tallmadge, OH (PRWEB) December 12, 2014
Have a 2013 or 2014 5.0L and want to build a Steeda Q Series Mustang? No problem—Summit Racing has many of the parts needed for enthusiasts to build their own Steeda Q450 Enforcer Mustang. The Q450 Enforcer is the mid-level Q-car loaded with Steeda goodies. The naturally aspirated Mustang puts out 460 horsepower and 442 lbs.-ft. of torque and has 1.03G of lateral grip, yet is perfectly streetable.
Summit Racing carries the following parts from the Steeda Q450 build:

Adjustable upper rear control arms
Billet lower rear control arms
Lowering spring kit
Sway bar kit
• Adjustable rear Panhard bar

Heavy-duty upper front strut mounts
X11 ball joints
• Bump steer kit

Ultimate Induction Pack (Pro Flow air intake and SCT X4 programmer)
Pentar Series wheels or Spyder Series wheels
A list of the remaining parts needed to complete a Q450 conversion is available at the Steeda website.
[SEE STEEDA'S Q450 MUSTANG CONVERSION PARTS AVAILABLE AT SUMMIT RACING
Summit Racing Equipment
http://www.SummitRacing.com
1-800-230-3030