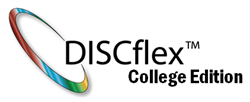 Communication in the workplace is essential to the existence of the organization
St. Petersburg, Florida (PRWEB) December 11, 2014
Indaba Global's DISCflex™ Assessment program has been linked to improved communication between students and professors at The University of South Florida (USF) and University of Central Florida (UCF).
"Communication in the workplace is essential to the existence of the organization, and sometimes we need more fine tuning than a university is able to provide," says USF student Krystin about using a behavioral assessment program that she took as part of her management class at the University of South Florida (USF).
DISCflex™ is a tool designed to help students become aware of their behaviors – not only what they do, but also how they are perceived by others. Through gaining awareness by completing a ten-minute assessment that produces a 15 page personalized report. Students like Krystin are able to use the eLearning associated with their report to help them change their behaviors to get the desired result. Krystin is one of many students who found this program particularly valuable.
Not only are students enjoying the program, but professors are as well. University of Central Florida professor, Dr. Dean Cleavenger, explains that most every management class excels at teaching students technical and conceptual skills, but admits that "where the University fails the student, is in the human skills, in this behavioral intelligence." Professors that have implemented behavioral programs in their classroom have seen improved communication skills amongst their students and colleagues. Jon, another management student at USF, agrees that "the program may also be used to help professors understand students better, as well as themselves."
The skills that behavioral programs teach are applicable in many spheres. Even students agree. Stephano, another USF management student, says that "while DISCflex™ is a very valuable tool to use in the business world, it is also quite valuable for us to use in school as well." James, political science student at the University of Florida (UF), was also able to use these skills "in common social settings."
DISCflex™ is a product of Indaba Global, leader in online training materials. To learn more, go to http://www.discflex.com and http://www.indabaglobal.com.