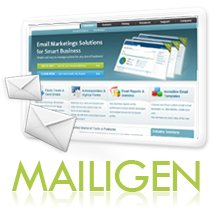 Toronto, Ontario, Canada (PRWEB) December 11, 2014
Mailigen, a leading provider of innovative email marketing solutions announced today about the launch of their Holiday Season sale for all plans present in company's offering. The customers can claim the discount by signing up at http://www.mailigen.com/paypro
Additionally, Mailigen announces the launch of a new feature - drag and drop email template editor. The new functionality of Mailigen enables users to effortlessly create stunning and highly converting email templates with a highly user-friendly drag and drop interface. The new feature will streamline the workflow for email marketers.
In 2014, Mailigen received a seed fund of more than half a million USD from Europe, Asia and the US in order to develop unique features for email marketing program. The received funding is being spent on creating one-stop marketing platform allowing companies to automate their email marketing strategies. In the same year, Mailigen took over LeaderSend, a European-based transactional email service and in doing so Mailigen enriched its email and integrated marketing services with transactional email capabilities covering full email automation.
Mailigen is one of the world's leading web-based email and integrated marketing platforms for any size of business or organization, as well as for individual users. Mailigen offers email marketing, mobile marketing and social media marketing to customers in more than 100 countries worldwide. Other features include online surveys, A/B split tests, RSS campaigns, email autoresponders, dynamic content, real-time reports, drag and drop email template editor to create responsive designs and other features. The email marketing software is also known for its email solutions for e-commerce and integrates with modern e-commerce platforms, such as Magento, Shopify and Salesforce. Apart from email marketing tools, the Mailigen expert team offers email strategy development, email campaign management, email audit and other services.
Mailigen is distributed via PayPro Global eCommerce platform to sell software, SaaS and Cloud products. PayPro Global provides a secure and reliable environment to accept worldwide payments with the help of a wide selection of payment methods incorporated into the platform. PayPro Global offers instant global shopper support via telephone and email 24 hours a day and 7 days a week. PayPro Global Customer Care can be reached at the following phone numbers:
United States and Canada: +1.866.933.4313
International: +1.646.873.6857
The orders are processed in a highly secure environment, using SSL (secure Socket Layer) protocol with 128-bit encryption keys. Encryption is certified by VeriSign. You can be confident that your details will not be shared, traded, or sold to any party - your privacy is assured.
About Mailigen
Founded and operated by Janis Rose and Arturs Bernovskis, Mailigen develops innovative email marketing solutions that make marketing as easy and cost effective as possible for businesses of all sizes.
Mailigen incorporates highly sophisticated email marketing functionality into an intuitive and user-friendly interface. The product's feature set includes ROI boosting features, including Autoresponders, Sign-Up form builders, list segmentation and many more. The company constantly updates its ISP relationships to improve email campaign deliverability.
Website: http://www.mailigen.com
About PayPro Global
Founded in 2006, PayPro Global Inc. develops and hosts a flexible eCommerce platform to sell software, SaaS and cloud services. PayPro Global's mission is to deliver innovative solutions that help company's partners optimize conversion, increase shopping cart value and improve sales. The platform supports global payments, regional currencies, local payment methods and multilingual checkout. The company also offers software enterprises state-of-the-art licensing, activation and anti-piracy protection for their applications.
PayPro Global Inc is headquartered in Toronto, Canada, with development centers in Ramat Gan, Israel and regional offices in New York, USA, and London, UK.
Website: http://payproglobal.com
Blog: http://blog.payproglobal.com
Twitter: @paypro_global