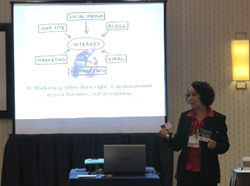 "Lisa could have a whole day for her topic. She loves teaching this subject!"
Atlana, GA (PRWEB) December 11, 2014
Lisa C. Decker, Certified Divorce Financial Analyst (CDFA) and CEO of Divorce Money Matters and DivorceTown® USA was selected from a pool of dozens of professionals to be a featured speaker at both the Association of Divorce Financial Planners (ADFP) and the Academy of Professional Family Mediators (APFM) conferences that were held concurrently in San Diego, CA from October 13-19, 2014. This ground-breaking effort between the organizations included a joint conference day on Thursday, October 16th, 2014.
As a presenter at the APFM Conference she provided a break-out workshop entitled, "7 Top Ways to Attract Ideal Clients and Referral Partners." Newly provided evaluation forms from the attendees showed nearly perfect scores in all areas assessed along with rave reviews among the comments. Many attendees made note that they wanted more time to spend with Ms. Decker on this subject matter, "…Lisa could have a whole day for her topic. She loves teaching this subject!"
Ms. Decker was also a panelist at the ADFP Conference speaking on Marketing Tactics: The Catalysts for Growing your Divorce Practice along with esteemed colleagues, Stacy Francis, CFP®, CFA, CDFA™ of New York City and Cary Stamp, CFP®, CDFA™ of Palm Beach. Her featured presentation spoke to "The Art of Magnetic Networking," and was also well received. Since the conference she has had follow-up requests from colleagues seeking consultations about their own marketing efforts.
"Divorce Financial Planners and Mediators share a common thread of helping people find more peaceful paths to resolution, yet our services still seem to be the best kept secret in the industry," stated Ms. Decker. "I'm honored to help elevate our complimentary professions and support my colleagues as they spread their marketing messages to reach more people who could greatly benefit from alternative dispute resolution type services."
As a CDFA in private practice, Ms. Decker understands the challenges of growing a business while serving client's needs. She is a firm believer in authentic marketing efforts that attract ideal clients with greater ease. While she provides services to both men and women individually, she most enjoys working with couples looking for a saner, savvier, money-saving way to divorce. By offering pre-divorce financial planning through unique flat-fee services she is attracting her ideal clients.
In addition, through her new online community, DivorceTown®USA.com, Lisa hosts are a variety of events designed to bring professionals and potential clients together in online and offline communities and events so families transitioning thru divorce can get the best outcome possible for their finances, their families and their futures. This is what drives her personal mission to "Improve the way America divorces, one family at a time™."
About Lisa Decker:
Lisa C. Decker, Certified Divorce Financial Analyst, is a discreet problem-solver as she helps clients move from confusion to clarity in their divorce guiding them step-by-step from contemplation through completion. A nationally recognized expert in the financial matters of divorce and author of the new book, How to "Divorce Your Spouse, Not Your Money® (available on amazon Kindle), Ms. Decker is a sought out speaker, frequent radio show guest and featured expert on ABC, NBC, CBS, FOX and CW affiliates nationally, along with CNBC.com, ForbesWomen.com, NY Times, Wall Street Journal, Business Week, and Oprah magazines speaking on topics that help people to be smart from the start and have saner, savvier, money-saving divorces. For more information, call 866-722-7226 or visit her website to receive her FREE Divorce Financial Fitness Kit.