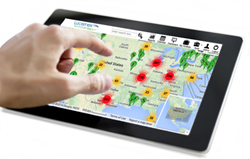 Jim has significant experience in all aspects of IWMS solutions and knows the market inside and out.
Dallas, TX (PRWEB) December 11, 2014
Lucernex Technologies, the leading provider of True Cloud delivered Integrated Workplace Management System (IWMS) solutions, announced today that it has appointed James T. Wilton as Chief Marketing Officer (CMO).
In this role, Wilton will oversee all aspects of marketing related to the entire suite of Lucernex applications including Lx IWMS, the first and only True Cloud delivered IWMS solution. Wilton will also play a significant role in global marketing as Lucernex continues to drive its international expansion. Lucernex's solutions are currently in use by hundreds of thousands of locations in the global retail and related industries.
Wilton has 20+ years of technology and software experience with more than 10 years specializing in the IWMS space. He previously held roles in professional services, product management, product strategy and marketing for several global software providers. Most recently, he built a high performing global marketing team from the ground up for Planon Software, a leading European provider of Real Estate and Facility Management software. Wilton is also a frequent international speaker, author and thought leader in IWMS.
"Jim has significant experience in all aspects of IWMS solutions and knows the market inside and out," said Joe Valeri, President of Lucernex Technologies. "We look forward to seeing him bring the same success to Lucernex as we continue to expand our presence worldwide."
The Lucernex product suite includes Lx Retail, which hosts an all encompassing suite of modules for: Market Analysis and Site Selection; Project Management, Lease Administration, Rent Accounting and Lease Analysis; Facilities Maintenance and Asset Management; and Capital Program and Project Management.
About Lucernex
Founded in 2000, Lucernex Technologies provides retail and corporate real estate professionals with powerful cloud-based solutions to manage the lifecycle of stores and locations. All Lucernex solutions were designed for managers of large prototypical real estate portfolios to manage any size portfolio of leased and owned properties. Fortune 500 companies in the corporate real estate, hospitality, heathcare and retail industries use Lucernex Technologies solutions every day to ensure compliance, mitigate risk and empower effective growth. As an innovative leader in cloud-based real estate solutions, Lucernex continues to grow its customer base by applying its Cloud software expertise and real estate development insight to provide advanced tools and services for business. For more information, please visit http://www.lucernex.com.