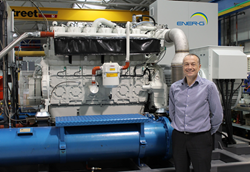 As customers seek to decarbonise heat and power supplies and gain greater energy security, while district heating networks gather pace, there are some major opportunities for the CHP industry
Manchester, UK (PRWEB UK) 12 December 2014
Chris Marsland, Technical Director for ENER-G Combined Power Ltd has joined the CHPA board - one of three key industry appointments representing district heating, combined heat and power and demand side energy services.
As part of his role, he is Chair of the CHPA Small Buildings Forum.
Chris, who is a chartered engineer and member of the Institute of Engineering and Technology (IET), is responsible for the engineering content of all ENER-G's global CHP projects - playing a lead role in new product design and R&D. He is Chairman of the Technical Committee for the Association of Manufacturers and Suppliers of Power Generating Systems (AMPS) and is also part of a major research consortium examining the use of CHP Virtual Power Plants.
Ben Watts, Technical Development Director for Cofely, and Dan McGrail, UK Business Unit Director for Siemens Power & Gas, also take up board positions with the CHPA, which is the leading advocate of an integrated approach to delivering energy services using combined heat and power and district heating and cooling.
Welcoming the appointments, CHPA Chairman Ian Calvert said: "It is with pleasure that I welcome three new board members, who will help ensure we can continue to be the voice of the wider industry and the driving force for helping to create a secure, affordable and sustainable energy system through energy efficient technologies like CHP, district heat and demand side energy services."
Chris Marsland said: "As customers seek to decarbonise heat and power supplies and gain greater energy security, while district heating networks gather pace, there are some major opportunities for the UK CHP industry. There are also a number of technical challenges surrounding European rulings to promote grid stability and emissions reductions. It is an exciting time to take up this role and I am proud to contribute to the CHPA's vital work in shaping energy policy and championing the sector."
Further information: http://www.energ.co.uk/chp