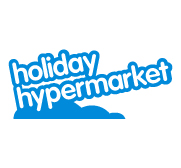 We decided to signal our intentions for the coming year by letting our hair down with a fun festive video. Hopefully it will put a smile on people's faces and bring a bit of Christmas cheer
(PRWEB UK) 12 December 2014
With Christmas nearly upon us its time to have a bit of fun. Holiday Hypermarket have created a video series entitled the '12 destinations to Christmas' which is sure to give you a giggle between now and Christmas day. The campaign features a comical character visiting 12 popular destinations around the world.
From Friday 12th December they will be releasing a new part at 8am every morning for the 12 days before Christmas via their social media and email channels. The shorts last between 20-30 seconds, and the countdown differs every time as the series grows in comical value. On 24th December, Holiday Hypermarket will reveal the full length version of the video.
Here is part one
Ian Crawford, Holiday Hypermarket's Marketing Manager, explained: "Video is a big part of our strategy for bringing online travel to life and communicating Holiday Hypermarket's sense of fun. We're planning to do a lot more with video in 2015, so we decided to signal our intentions for the coming year by letting our hair down with a fun festive video. Hopefully it will put a smile on people's faces and bring a bit of Christmas cheer."
To catch the complete 12 Destinations of Christmas, make sure you "like" Holiday Hypermarket on Facebook (facebook.com/holidayhypermarket) or follow them on Twitter (twitter.com/holidayhype).
About Holiday Hypermarket:
Holiday Hypermarket is one of the UK's leading online travel agencies, specialising in great value package holidays from major tour operators, with discounts of up to 70% on the brochure price. Holiday Hypermarket is part of TUI Travel PLC, a global travel giant that includes the Thomson and First Choice brands. Holiday Hypermarket has millions of available package holidays to suit a wide variety of interests and budgets, from self-catering to all inclusive, with a lowest online price guarantee.