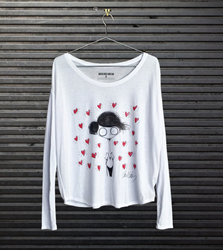 Our platform allows the artists to focus on what they do best – remarkable artwork – while we bring new revenue generating collaborations to the table.
Santa Monica, CA (PRWEB) December 12, 2014
Paper and Fabric (http://www.PaperandFabric.com), just launched its e-commerce shop which features the works of emerging artists on canvas prints (paper) and premium clothing (fabric). The proceeds of each collection are shared with the artist and a non-profit art/education organization. The curated platform will showcase an array of art collections from talented illustrators to talented street artists. The first collection is collaboration with the gifted illustrator and artist, Michael Murphy.
Michael Murphy is an illustrator and designer from Palm Springs, California often compared to Tim Burton. Michael tells short stories through his visual art, and his work evokes emotions through the expressive qualities of his subjects. His influences include Tim Burton, Dr. Seuss and Mark Ryden.
The non-profit beneficiary for this collection is P.S. Arts, an organization that improves the lives of children by providing arts education to underserved public schools and communities. The local non-profit and its 60 artists-in-residence provide in-school, yearlong programs in dance, visual arts, music, and/or theater arts to 20,000 kids in Southern California.
While primarily an online shop, Paper and Fabric commences each collection with an offline "art meets fashion" gallery experience. This will allow people to meet the artist, see the artwork, feel the clothing, and learn more about the partners involved.
"We want to expand the marketing and business landscapes for emerging artists," says co-founder Mikey Meschures. "Our platform allows the artists to focus on what they do best – remarkable artwork – while we bring new revenue generating collaborations to the table."
Paper and Fabric will have their opening gallery event on Sunday, December 14 at General Assembly in Santa Monica form 1pm-4pm. Each attendee will get chance to meet the artist, an exclusive signed print, a chance to purchase original artwork and a preview of the new apparel collection, while enjoying food, wine and desserts. Sponsors include General Assembly, True Food Kitchen, Malibu Family Wines and Sprinkles Cupcakes. In order to RSVP, go to http://www.paperandfabricgallery.eventbrite.com
ABOUT PAPER AND FABRIC
Paper and Fabric features the works of emerging artists on canvas prints (paper) and premium clothing (fabric). The proceeds from each collection are shared with the artist and an art/education non-profit organization. For more information, please visit: http://www.paperandfabric.com
Media Contact:
Mikey Meschures
310-400-0772
mikey(at)paperandfabric(dot)com