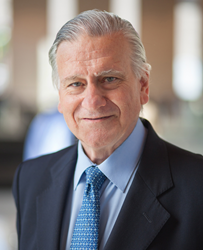 New York, NY (PRWEB) December 11, 2014
More than 2,000 experts in the field of cardiovascular medicine will attend the annual American College of Cardiology 47th New York Cardiovascular Symposium December 12-14 at the New York Hilton-Midtown, which will highlight "The Next Big Things" in cardiovascular medicine.
For the 21st consecutive year, Valentin Fuster, MD, PhD, MACC, will direct the three-day cardiology course with expert lectures and panel debates by more than 50 leading, international cardiovascular specialists.
"Our Symposium brings together for you the world's leading cardiovascular medicine experts to review 2014's latest scientific advancements and cutting-edge technologies for treating cardiovascular disease," says Dr. Valentin Fuster, Director of Mount Sinai Heart, and Physician-in-Chief of The Mount Sinai Hospital.
"This once a year cutting-edge course may have the most positive impact on your practice and most importantly, your patients, while revealing the next big breakthroughs to come in 2015 and beyond for the field of cardiology," says Dr. Fuster, a global leader in cardiovascular medicine and the Editor-in-Chief of the Journal of the American College of Cardiology (JACC).
A major highlight of the Symposium will be the special presentations of "The Next Big Things" in cardiovascular medicine including:
•Coronary Artery Bypass Graft (CABG) for Complex Coronary Disease in the Diabetic and in the Elderly.
•The Polypill for Secondary Prevention is Entering the Cardiovascular Field.
•The Impact of Cardiovascular Risk Factors in Degenerative Brain Disease and Aging.
•The Result of Advances in Imaging and Cognitive Function Testing.
The Symposium, a partnership between the American College of Cardiology and The New York Cardiological Society, will begin on Dec. 12 with speeches by: Shalom Jacobovitz , Chief Executive Officer, American College of Cardiology; Patrick T. O'Gara, MD, FACC, President, American College of Cardiology; and Smadar Kort, MD, FACC, Governor, American College of Cardiology, Downstate New York.
The audience of cardiologists, cardiac interventionalists, electrophysiologists, cardiac surgeons, nurses, and other healthcare professionals will learn about the latest, research, technological, and therapeutic advancements of 2014 and challenges for 2015. The event's expert lectures and discussions will span across advances in the field of cardiovascular medicine about prevention of heart disease and stroke, coronary artery disease, arrhythmias, heart attack, heart failure, heart surgery, cardiac imaging, aortic and valvular heart disease, genetics, gene therapy, and cell regeneration.
The full agenda for the American College of Cardiology 47th New York Cardiovascular Symposium is available, here.
About the Mount Sinai Health System
The Mount Sinai Health System is an integrated health system committed to providing distinguished care, conducting transformative research, and advancing biomedical education. Structured around seven member hospital campuses and a single medical school, the Health System has an extensive ambulatory network and a range of inpatient and outpatient services—from community based facilities to tertiary and quaternary care.
The System includes approximately 6,600 primary and specialty care physicians, 12 minority owned free standing ambulatory surgery centers, over 45 ambulatory practices throughout the five boroughs of New York City, Westchester, and Long Island, as well as 31 affiliated community health centers. Physicians are affiliated with the Icahn School of Medicine at Mount Sinai, which is ranked among the top 20 medical schools both in National Institutes of Health funding and by U.S. News & World Report.
For more information, visit http://www.mountsinai.org or find Mount Sinai on Facebook, Twitter and YouTube