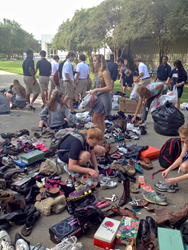 What I like about x2VOL is that I can post a new project, with all the information—day and time—and easily e-mail it to all students.
BATON ROUGE, La. (PRWEB) December 12, 2014
Dunham School is teaching a lot more than the core curriculum to their students. Dunham School students give a minimum of 100 hours in community service before they graduate which enriches the students' lives and helps others in need. Dunham's service program and how they manage it with x2VOL from intelliVOL is chronicled in a newly released case study available now. Click to Tweet.
Dunham is a preK-12 Christian school in Baton Rouge, La. While service is required, many students give more than 100 hours. The school also asks students to reflect upon on their service which helps them to think beyond themselves, rounding out their education beyond classroom instruction.
x2VOL has greatly simplified the community service program at Dunham including the students' reflections. x2VOL makes hours submission, management, reflection and verification a turn-key process. Administrators and students can easily generate reports as needed for scholarship and college applications. Students can use an online or mobile app for recording and managing their hours.
Read this case study and others at: https://www.myx2vol.com/cs-wp.html