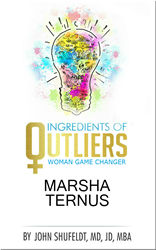 She was warm, engaging, nonjudgmental and friendly with us all. Later, I found out she was the first woman to become a Supreme Court Chief Justice in the State of Iowa. She could have bragged endlessly about herself, but she didn't.
Scottsdale, AZ (PRWEB) December 12, 2014
The Outlier Series announced the short e-Book with exclusive interview content from former Chief Justice of Iowa Supreme Court, Marsha Ternus, is now available for sale on Amazon.com. The eBook is the last to be released profiling an exceptional woman from the series' upcoming book, Ingredients of Outliers: Women Game Changers. The title of the short eBook is Ingredients of Outliers: Woman Game Changer Marsha Ternus. Ternus is best known for becoming the first woman to serve as Supreme Court Justice in Iowa State, where she served for seventeen years and encouraged court efforts to improve access to justice.
The book is $0.99 on Amazon.com at http://amzn.to/1utevsT and can be read in Kindle eBook format on any device compatible.with the Kindle eReader application.
Ternus, was chosen as an outlier, featured in the short e-book and Outlier Series third book, by Dr. John Shufeldt, due to her humility and kindness despite her many accomplishments as Chief Justice and an attorney, and her inspirational story of entering law school a day when there were few female attorneys. Today, Ternus is not only a practicing attorney, but she is also Director of The Harkin Institute for Public Policy and Citizen Engagement at Drake University, and frequently lectures on on various subjects, including judicial independence, the politicization of the judiciary, and reform of the criminal justice system. She has received many awards for her accomplishments including the 2012 John F. Kennedy Profile in Courage Award, the 2011 Outstanding Contribution to the Well-Being of Children & Youth Award from Youth & Shelter Services, Inc., the 2011 Louise Noun Civil Liberties Award from the Iowa ACLU, and the 2011 first annual award for outstanding contributions to the welfare of children given by the Iowa Children's Justice Initiative.
The upcoming title in which Ternus and 5 other exceptional women will be featured, Ingredients of Outliers: Women Game Changers, is expected to publish in December 2014. Other women profiled in the inspirational women's leadership book include award winning author and bestselling author of A Map of the World and Book of Ruth, Jane Hamilton; Arizona business woman and public figure, Christine Jones; Haiti Humanitarian and leading female Ophthalmologist, Dr. Mildred M. G. Olivier; former star of the WEtv series Raising Sextuplets, Jenny McClendon; and Sharon Guynup an author, editor, freelance environmental journalist, and photographer.
"I met Justice Marsha Ternus when sitting in a Drake Board of Trustees meeting- I was paired with a new board member and about five students. She was warm, engaging, nonjudgmental and friendly with us all. Later, I found out she was the first woman to become a Supreme Court Chief Justice in the State of Iowa. She could have bragged endlessly about herself, but she didn't. This caught my attention, and I used her as an example in a chapter on "humility" in my first book, Ingredients of Outliers. We've remained friends and I have never been let down by my initial impression of her, " said author, entrepreneur, and emergency medicine physician, John Shufeldt.
In the future, short e-Books featuring individuals profiled in the Outliers Series will be created for each book. Content will include an interview from the outliers, along with action and resource guides for those aspiring to enter their related career field. The option to buy the full book will also be available on http://www.ingredientsofoutliers.com.
To stay updated, follow the Outlier Series on Facebook at http://www.facebook.com/readingredientsofoutliers. For inquiries, contact apacion(at)ingredientsofoutliers(dot)com.
About Author John Shufeldt:
As well as being a practicing physician and lawyer, Shufeldt is an experienced pilot and a business entrepreneur. He is the owner of telemedicine company MeMD.com, UrgentRad.com, UcinetMSO.org, and UrgentCareEducation.com among other health and non healthcare businesses. He teaches regularly at ASU to master's level business and law students and is on the Phoenix SWAT team.
Go here for updates and to learn more about Ingredients of Outliers: Women Game Changers and the Outlier Series.
About the Outlier Series:
After the publication of Ingredients of Outliers, and Ingredients of Young Outliers, the third book in the Outlier Series, Ingredients of Outliers: Women Game Changers will be followed by at least 12 other books over the course of 2014-2015. The books are intended for students, college graduates and anyone interested in entering or furthering their career. The goal of the series is to offer books specific to sought-after career fields with insider information and recommended channels for pursuing that career from experts in each respective profession.
The career fields featured in the Outlier Series will include but are not limited to:
Medicine, Education, Writing & Journalism, Health, Sports, Entrepreneurism & Business, Music, Science, Arts & Entertainment, Technology, and Service to Mankind & Humanity.