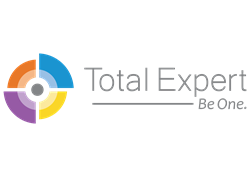 "We have first-hand knowledge of what realtors and lenders want, and are passionate to help them grow their businesses and expertise by providing a central platform that solves many of their business related challenges." -Joe Welu, Total Expert CEO
Eden Prairie, MN (PRWEB) December 15, 2014
Total Expert LLC (dba: Total Expert) has been announced as the technology platform being deployed by RE/MAX Advantage Plus to support its strategic marketing plan for 2015.
Total Expert, a software and technology company based in Eden Prairie, MN, has been contracted to provide their web-based marketing platform, TE PRO, to RE/MAX Advantage Plus, a real estate franchise with 13 offices in the Twin Cities market and 350 associates.
The decision was confirmed by RE/MAX Advantage Plus owner and broker, Eric Malmberg. "Our brokerage made a major commitment to strengthen and expand the individual brands and business growth of our associates in 2015. After evaluating many technology and strategic options, Total Expert was the most efficient and inclusive business solution that would not only automate real estate tasks to save our associates time and money, but provide the potential to grow their local market share and also have significant public benefit," Malmberg added, "With the advantages this product will provide to my brokerage and associates, I have agreed to provide it to each and every one of my associates who wants to have it."
The product provided by Total Expert, TE PRO, is a web-based sales and marketing platform specifically created for the real estate and mortgage industries from the individual realtor and lender perspectives. Joe Welu, CEO of Total Expert, explains how this product is different. "Many companies who sell to the real estate and mortgage industries have never worked in them and don't understand the nuances and everyday challenges professionals face in their quest to remain relevant in an ever changing housing market. We have first-hand knowledge of what realtors and lenders want, and are passionate to help them grow their businesses and expertise by providing a central platform that solves many of their business related challenges."
The TE Pro features, as listed on TotalExpertInc.com, include a responsive design website, custom IDX/property search, CRM, all source lead funneling, one click marketing for print ready flyers and postcards, buyer activity scoring, hyper-local marketing, blogging, and being co-marketing ready. Welu adds, "Co-marketing is the ability for realtors and lenders to use cutting-edge technology to enhance collaborations and cost sharing between themselves with a fully compliant product. We believe we have one, if not the only, product that currently has this."
The definitive agreement between Total Expert and RE/MAX Advantage Plus was executed this month with launch dates for the product to all associates in January 2015. For more information on Total Expert and TE PRO, visit TotalExpertInc.com. For information on RE/MAX Advantage Plus, visit AdvPlus.com.
Total Expert LLC is a web-based SaaS software technology company founded in 2012 by top producing agents. They specializes in marketing platforms for the real estate and mortgage industries offering responsive design, all in one marketing automation and business growth solutions. Total Expert is headquartered in Eden Prairie, MN, with products deployed in eight states and expansion plans for a dozen more over the next eighteen months.