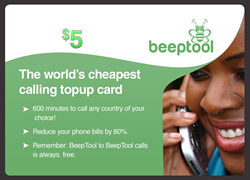 Nigerian talk-and-text startup provides affordable communication services to everyone, including those without a bank account.
LAGOS, Nigeria (PRWEB) December 18, 2014
BeepTool is proud to announce their partnership with Conect2U, a Welkom-based technology company. With Conect2U's new distribution partnership, BeepTool vouchers, which support video conferencing, talk and text on an array of devices, can now be purchased for as little as $1 USD, which is perfect for those that don't currently hold a bank account.
"Now, even if you don't have a bank account, you can take advantage of BeepTool," says founder and CEO, John Enoh. "For low-income earners, the simple act of communicating with loved ones abroad can be very difficult. Our new partnership with Conect2U proves our commitment to bring people together worldwide."
Currently, BeepTool top-up cards are available at retail stores in Nigeria (Lagos state, Niger state, Nassarawa state and Abuja). Beginning today, they will be available at stores, schools and call shops operated by Conect2U across South Africa. They are also available at ATMs supported by Quickteller and Interswitch payment processing services. Top-up cards are available at $1, $5, $10, $20 and $30 increments.
Many BeepTool app features are available at no cost at all, including BeepTool-to-BeepTool talk, text and video calling. All BeepTool users get free calls and texts anytime, anywhere in the world via WiFi or 3G/4G/LTE networks without draining minutes from service providers. Soon via BeepTool's recently signed a partnership with DIDx, the BeepTool Virtual Numbers feature will enable users to make and receive calls without an Internet connection. Current "BeepTool Out" rates are as low as $0.008 per minute, and new users automatically receive a $1 credit when they initially download the app.
Current users can top up their accounts online by visiting: http://www.beeptool.com/rates/.
###
About BeepTool
BeepTool was launched in August 2014 and has since been growing steadily. Their popular communication app supports affordable video conferencing, talk, text and file sharing on to over 40,000 users worldwide. The app is currently available on iOS, Android, Mac, PC and HTML5.
Download BeepTool from the Apple store: https://itunes.apple.com/app/beeptool/id911357270
Download BeepTool from Google Play: https://play.google.com/store/apps/details?id=com.beeptool.beeptool
Media contact:
John Enoh
CEO/President
+971-44217959
john.enoh(at)beeptool(dot)com