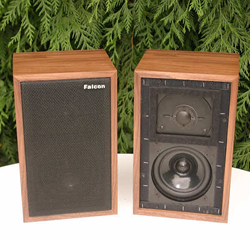 Ormond Beach, Florida (PRWEB) December 15, 2014
Big Ear Consulting LLC, a major consulting company for high-end audio and consumer electronics events, will distribute the first Classic 15 Ohm LS3/5a available since the 1980's. This product contains only components equal to or exceeding the original version. The new Falcon Classic BBC LS3/5a continues the legacy of that benchmark product rated as the third most important speaker design of all time by the prominent US publication The Absolute Sound. We have taken great effort to ensure the new Falcon LS3/5a loudspeaker adheres to the original and thus distinguish it from other iterations.
Falcon Electronics was founded in 1972 by Malcolm Jones, who was the first employee at KEF Electronics Ltd. in 1961. As Senior Development Engineer, he performed most of the design and development of the B139s, B200s, B110s, T15, T27 and the systems in which they were incorporated. Malcolm left KEF in 1974, having just completed the Reference Series 104 system and work on an active professional monitor, LS5/1AC, to begin his own company, Falcon Acoustics Ltd.
The British built Falcon BBC LS3/5a is the classic 15 Ohm version, featuring the British made Falcon F B110 and the Falcon F T27 drive units. The hand-built British crossover is the BBC-designed FL6/23 transformer design, using transformer inductors made by British manufacturers and hand selected close tolerance pair matched components throughout. Cabinets are made from carefully selected grade Baltic Birch Ply with beech battens.
Big Ear Consulting will supply warranty service from their Florida facility. All products come with the Falcon 5 year warranty and are hand assembled, quality controlled, and packaged in the UK.
"Past owners of the original 15 Ohm LS3/5a loudspeakers will be able to qualify this product as authentic in production and sonics, said owner of Big Ear, Steve Davis. "It easily maintains the standards set by the original. With the resurgence of analog playback both through vinyl records and magnetic tape it is easy to see, and hear, the evolution of equipment that supported the digital revolution. The disappearance of the original components for this product parallels exactly the introduction of compact disc and digital recording. It is a revelation to once again have the perfect loudspeaker to follow the analog revolution as it recaptures its rightful place with music lovers everywhere".
Big Ear Consulting LLC is a Florida company offering a toll free number - 800 752 4018 - for consultation or questions. The speakers are available by visiting http://www.ls3-5a.com. You may also reach us at sales(at)ls3-5a(dot)com or steve(at)ls3-5a(dot)com.