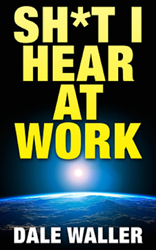 Pittsburgh, PA (PRWEB) December 16, 2014
Sh*t I Hear at Work is a real labor of love for writer Dale Waller who has been honing his authoring idea for nearly 20 years. A disabled veteran, Dale was hospitalized and told by doctors that he would be unlikely to leave and if he did, he would never be able to handle a checkbook again. Six years later, not only did Dale Waller leave the hospital but he gained a Master's Degree in Engineering and wrote Sh*t I Hear at Work from scratch.
Sh*t I Hear at Work is a book of jokes written down over the course of his first year at work from coworkers.
I Cried Laughing! And I think I even snorted a few times... December 4, 2014
By Lauren G Reliford ~Queen of Forgiveness~
Format: Kindle Edition Verified Purchase
"This book was so fricken funny. I read it in my spare time over a few days and I laughed so hard I cried! I recommend reading this book and sharing the jokes inside with your friends at work. They will think you are brilliant! Dale, it was brilliant! Thanks for a good laugh. I will be sharing these jokes with my friends in random emails."
Amazon Best Sellers Rank: #6,410 Paid in Kindle Store (of 6,000,000+)

#2 in Kindle Store > Kindle Short Reads > Two hours or more (65-100 pages) > Humor & Entertainment
#2 in Kindle Store > Kindle eBooks > Humor & Entertainment > Humor > Jokes & Riddles
For more information, visit:
http://www.amazon.com/Sh-Hear-Work-Dale-Waller-ebook/dp/B00IKT3E38