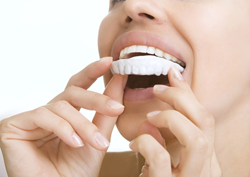 Keep in mind that some teeth are not suitable for whitening and most people achieve a two or three shade improvement in the shades of the teeth.
McAllen, Texas (PRWEB) December 17, 2014
In a culture where physical attractiveness matters most, a full body image is of utmost importance. Maintaining a good image isn't easy at all and this is what the World Boxing Council Chamion Mia St. John learned when she tried to use too much teeth whitening solutions. She was aiming for a perfectly pearl white teeth. But everything turned into a mush one day. If not because of the immediate intervention of her dentist, it could have been a nightmare for her .
Recent studies have found that teeth could be whitened as quickly as possible to look younger. However, the use of excessive teeth whitening would result to a downside. With the various options to attain a great smile without the visible yellowish stains on the enamels, the need for white teeth became an obsession. Many dentists call it 'bleachorexia'.
WBC champion Mia St. John admitted that there was a point in her life wherein she became too obsessed with making her teeth white. She had 'boxes of whitening strips, dental floss and toothpaste, and that all she wanted to do was to brush and bleach her teeth constantly. Not until her emergency dentist. "He said my teeth could basically turn into a mush, just because I was destroying the enamel" St. John quoted in an interview with Good Morning America.
Most whiteners can irritate the gums and cause to recede while other side effects can include over-sensitivity and brittle teeth. Teeth whitening toothpaste is the least effective whitening option and it consists of mild abrasives that would only rub away shallow surfaces of stains. Over-the-counter teeth whitening solutions take several weeks of daily use to reveal significant results. Furthermore, any mistake in the application of any of the whitening kits, whitening gels, whitening strips, or rinses would result to infection and irritation of the gums. Thus, the effort and convenience in following the steps for white teeth would go to waste for a single error.
The best and most reliable way to achieve picture perfect white teeth is to visit a dentist for professional teeth whitening. Keep in mind that some people have teeth that are not suitable for whitening and most people achieve a two or three shade improvement in the shades of the teeth. Having a proper dental assessment first is greatly advised before undergoing any procedure, though the use of a teeth whitening solution is a low risk process. Assessments were done on the type of staining on the teeth and on the state of the teeth itself which includes gum health, enamel thickness, any tooth decay, and existing restorations (crowns, fillings, and veneers).
"You get what you pay for" would certainly be applicable if teeth whitening are done haphazardly and without control. Inquisition on the treatment processes and teeth conditions to achieve white teeth would be a great help in preventing any damages it may inflict.
For anyone who is looking for the best teeth whitening service provider, Xpress Dental Clinic is the best place. The clinic now provides better treatment planning, stronger bleaching agents, and additional protective measures.
About Xpress Dental Clinic
Xpress Dental Clinic prides themselves on being a different dental office, where they utilize technology and focus on customer service to enhance the patient experience. Xpress Dental Clinic believes that going to the dentist should be a positive experience and they always strive for excellence by always looking into how they may improve our level of service.