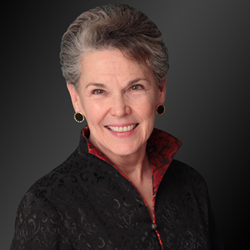 One look at Dubai and you understand that this part of the world is alive with real estate property innovation and opportunities.
Dubai (PRWEB) December 17, 2014
Top developers, architects, interior designers and real estate brokers and agents from across the Middle East and Africa gathered at The Madinat Jumeirah Hotel in Dubai on December 3-4, 2014 to celebrate successes in the 2014 Middle Eastern and African Property Awards competition, which was hosted by International Property and Travel magazine and sponsored by Rolls Royce. Laurie Moore-Moore, Founder of USA-based Institute for Luxury Home Marketing, presented a keynote address on the first day of the event which provided insight about the world's wealthy homebuyers and luxury real estate.
Moore focused on the speech on the growing number of wealthy individuals world-wide, and what it means for the sale of international real estate purchases. The statistics presented in the 2014 Knight Frank Wealth Report helped to shed light on the state of this market segment, which demonstrated that the number of Ultra High-Net-Worth Individuals (UNHWIs)–those with US$30 million or more in investable assets–increased globally by 59% since 2003 while the number of centa-millionaires–those with US$100 million in investable assets–rose by 62%. Moore-Moore explored a number of other statistics regarding wealthy buyers, as well as their post-recession attitudes and property-buying motivations.
Moore-Moore also defined the various levels of wealth, talked about which cities are the most desirable locations for luxury real estate property investment and why, and discussed the percentages of real estate investment in portfolios around the world. These percentages were detailed in the 2014 World Wealth Report from Capgemini and the Royal Bank of Canada, which demonstrated that improving economic and equity market performance helped add 1.76 million people to the global High Net Worth Individual (HNWI) population in 2013, while the investable wealth of HNWIs grew by nearly 14% to reach a record high of US$56.62 trillion. There was also a 15% increase in HNWI population in 2013. In addition to these percentages, Moore-Moore commented on the residential property characteristics desired by various international cultural groups.
"I was honored to be invited to speak to this outstanding group of real estate professionals," said Moore-Moore. "These are the movers and the shakers in virtually all aspects of property design, development, construction, and sales from all across the Middle East and the African continent. The excitement about what's happening in this part of the globe was tangible. One look at Dubai and you understand that this part of the world is alive with property innovation and opportunities."
Moore-Moore also announced the Institute for Luxury Home Marketing will be introducing an international online training course in the marketing of luxury properties in the first quarter of 2015. "Given the positive response to my presentation at the Property Awards, I believe the new online course will fill a real need and help international property professionals, especially those in sales, better meet the needs of the wealthy consumer. Thousands of estate agents, brokers, and others have completed our North American luxury marketing course and shared their success stories with us and we are eager to help professionals in other parts of the globe build more success."
About The Institute for Luxury Home Marketing (ILHM)
ILHM trains real estate professionals who work in the luxury housing market and awards the Certified Luxury Home Marketing Specialist (CLHMS) designation to those who meet strict performance criteria. Training is available through live sessions and online. ILHM also hosts the annual Leaders in Luxury (LIL) education, peer brainstorming, marketing contest, and networking event.