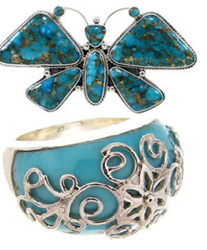 When you give someone a piece of jewelry that's completely unique, you're really showing how much thought and value you put into shopping for that person,"
(PRWEB) December 15, 2014
The holidays are drawing ever closer and that means people are searching for the perfect last minute gifts to surprise and delight their loved ones. Jewelry has always been a welcome present, picked intimately for the receiver to match their distinct tastes and style. Watches, rings, earrings, and more are often the spotlight present one receives during the merry season.
The online leader in Native American and southwestern jewelry has released a line of the newest fashion styles just in time for December shoppers. SilverTribe is offering hundreds of unique jewelry pieces at up to 60% off for holiday shoppers, even on authentic Native American made jewelry.
"Turquoise jewelry will always be a beautiful gift," said SilverTribe spokesperson Chris Anderson. "Watches with precious gems like onyx are great for men, and we have a new line of southwestern jewelry that will dazzle anyone."
The new fashion jewelry added to SilverTribe is just an addition to the hundreds of products offered. Most jewelry pieces are handcrafted and have a stone setting that makes it one-of-a-kind, with precious gems such as opal, turquoise, oyster, and more.
"When you give someone a piece of jewelry that's completely unique, you're really showing how much thought and value you put into shopping for that person," said Anderson. "A turquoise ring or a silver and coral set of earrings make for an unforgettable gift that a person can use all year around."
Anderson also notes that shoppers receive free shipping and that signing up for their VIP email program can bring additional discounts, including a 10% off code just for signing up. "At SilverTribe, delivering the highest quality at the best price for consumers is one of our top priorities. Especially during the holidays, you shouldn't have to sacrifice one for the other. Gift your loved ones or yourself something truly special this season."
To shop SilverTribe's new jewelry collection and browse hundreds of holiday gifts, visit the SilverTribe website.