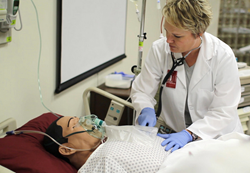 iStan promotes evidence-based learning and helps increase our students' critical thinking and clinical judgment. They make better decisions the longer they work with Stan. Jennifer Wilson-Hicks
PITTSBURGH, PA (PRWEB) December 16, 2014
He bleeds, he perspires and he responds to treatment. And if he dies, just a tap of the re-start button brings him right back to life. iStan is an advanced, wireless patient simulator and for School of Nursing students at Pittsburgh Technical Institute (PTI), the new high-tech patient is nothing short of a clinical simulation marvel. With internal robotics that mimic human cardiovascular, respiratory and neurological systems, a realistic airway, articulated joints at his neck, shoulders, waist, and hips, and blood on board, iStan has mobile simulation capabilities. Depending upon the clinical scenario, iStan's blood pressure, heart and respiratory rates, and other physiologic parameters automatically respond and change. He is pre-loaded with more than 100 simulated clinical experiences on his internal hard drive.
"The possibilities for what we can have him do are endless," says Jennifer Wilson-Hicks, RN, a member of the PTI nursing faculty. "iStan promotes evidence-based learning and helps increase our students' critical thinking and clinical judgment. They make better decisions the longer they work with Stan." Wilson-Hicks teaches acute and chronic care medical/surgical courses for PTI's Associate in Science, Nursing (ASN) program. She says that one of Stan's greatest strengths is he creates the opportunity for failure in a safe environment. "If the students perform an incorrect nursing action and Stan 'dies,' all we have to do is press a button and he comes right back to life. Obviously, students don't have that option in clinical - making it possible to make mistakes and learn from them," she says.
PTI nursing students learn to use infomatics to chart comprehensively and accurately, and to document their care of Stan in real time. This is augmented by an electronic medical records product to provide structured learning experiences in how to obtain and use information in clinical reasoning and documentation. Student must practice and refine their ability to communicate effectively and relate to their patients in a caring manner. "We find that as we progress through simulation, students begin to think of Stan as a real person, which is exactly what we want," says Wilson-Hicks. "They talk to him, they touch him like they would a real person, and they want to take good care of him."
Lynette Jack, PhD, RN, Academic Chair, PTI School of Nursing, believes iStan is an example of distinguishing features of the college's ASN program which provides extensive simulation technology and hands-on skills labs. "Abundant evidence suggests that advanced education in nursing significantly reduces clinical risks and increases the quality of patient care," says Jack. "With innovative resources like Stan, students are better prepared for work in modern healthcare practice.
"Our students develop and refine their clinical reasoning skills through practice with Stan. We are able to guide their problem-solving and team efforts to get to positive patient outcomes. Students then take this increased preparation to the clinical setting and apply a higher level of skill with human patients who depend on nurses for safe, high quality care. The combination of experiences, between the simulation center and the clinical setting, leads to nursing program graduates who are prepared to exceed employer expectations," Jack explains.
PTI's 21-month ASN program curriculum was developed to meet competencies established by the National League of Nursing and prepares students to sit for the NCLEX-RN exam upon graduation for licensure as a Registered Nurse.
PTI's School of Nursing will graduate its first class of ASN students July 2015.
Job expectations for the RN include additional responsibility for leadership and management of complex patient care. Career opportunities include positions in hospitals, pediatric settings, hospice, palliative and critical care, and physician offices and practices.
PTI's ASN degree consists of 76% nursing courses and 24% general education courses. Students are required to spend 55% of their nursing course time in clinical rotations or labs including primary care and wellness, acute care, chronic illness, OB-GYN, pediatrics, psychology, and an area of the student's interest.
Click for a short video featuring Jennifer Wilson-Hicks and iStan.
Click for images of iStan in one of PTI's School of Nursing skills labs.
For PTI School of Nursing information visit the website or call 1-800-784-9675.