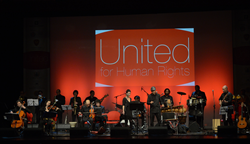 The inherent dignity and … equal and inalienable rights of all members of the human family
(PRWEB) December 15, 2014
"The inherent dignity and … equal and inalienable rights of all members of the human family"—this is the keynote of the Universal Declaration of Human Rights (UDHR) and the theme of the Human Rights Day concert December 5 at Milan's Teatro Manzoni. Held in honor of the 66th anniversary of the UDHR, the concert also marked 10 years of service by the Association for Human Rights and Tolerance of Italy.
The theme of this year's Human Rights Day is Human Rights 365—every day is Human Rights Day. In his message for the day, UN Secretary-General Ban Ki-moon called on countries everywhere "to honour their obligation to protect human rights every day of the year."
In coordination with the Human Rights Department of the Church of Scientology of Milan, the Association works to bring about universal human rights through education. Concerts have helped fund their activities at home and abroad, including:

Human rights education for exiled Tibetan orphans living in India based on What Are Human Rights, an illustrated booklet that contains the 30 Articles of the Universal Declaration of Human Rights in terms youth can understand;
The construction of three schools in Ghana, making the right to education available to hundreds of children;
Human rights education training for educators and community organizations in Ghana, Togo and the Democratic Republic of Congo.
This year's concert was sponsored by the Lombardy Region, the City of Milan, Mobile Unit III of the State Police, the Embassies of Ghana and the Democratic Republic of Congo in Italy and Central Mandala Project, a Tibetan human rights initiative.
The Church of Scientology supports United for Human Rights (UHR) and its program for young people, Youth for Human Rights. United for Human Rights has provided educational materials in 17 languages to more than 150 nations and some 21,000 schools have used its human rights materials.
To make United for Human Rights and the other humanitarian and social betterment initiatives it supports even more broadly available, the Church of Scientology has published a new brochure, Voice for Humanity—Real Help, Real Results.
Inspired by the words of L. Ron Hubbard, Founder of the Scientology religion, that "a being is only as valuable as he can serve others," Scientologists wholeheartedly support these programs. Participation and collaboration in these initiatives is invited and welcomed from all who seek to improve conditions for themselves and others.
For more information, visit the Scientology website at http://www.Scientology.org/how-we-help/voice-for-humanity.