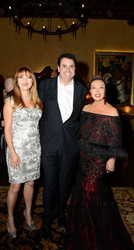 Los Angeles, CA (PRWEB) December 16, 2014
Internationally renowned designer SUE WONG decked the iconic halls of her Hollywood landmark home, The Cedars, Friday, with a glitterati of creative visionaries, artists and politicians-- celebrating her annual Holiday Party and the birthday of friend Sandro Monetti, West Coast Director of BAFTA. The exclusive, invitation-only celebration featured dignitaries, ambassadorial delegates, Hollywood celebrities, rock stars, producers, stylists, and fashionistas; as well as Sue's close friends.
The Cedars, a unique work of art, was the creative vision of Hollywood's Maurice Tourneur (director of "The Last of the Mohicans" – 1920). Silent Screen Goddess Norma Talmadge, Howard Hughes, Jimi Hendrix, Lou Reed, Dennis Hopper, and more recently Johnny Depp all graced and resided in the legendary Hollywood estate. The Grande Dame of Hollywood landmarks welcomed a rare and unique gathering of stars: Jane Seymour, Kelsey Grammer, Ronn Moss, James Frain, Grammy award-winning composer/musician Omar Akram, rockers Chris Pitman from Guns N' Roses and Steve Cooke, dignitaries Ambassador Liu Jian, China's Consul-General to Los Angeles and his wife Madame Ambassador Chen Xiaoling and former British Consul General Robert Pierce. Many Entertainment notables attended, including Academy Award screenwriter David Seidler ("The King's Speech"), writer and producer David Marconi ("Live Free or Die Hard" and "Enemy of the State"), the creator of Baywatch Michael Berk and West Coast BAFTA Director Sandro Monetti, as well as Mr. Golden Globes, Lorenzo Sorio.
The Cedars channels the very essence of The Goddess, the ultimate form of female empowerment and quantum potential that resides in each and every woman; being a pantheon of silent screen and Hollywood's Golden era royalty. She is an organic extension of the SUE WONG signature iconography and an unmatched platform to showcase Sue Wong's unique voice embedded in her couture gowns made available at prêt-à-porter prices; earning her the title as Every Woman's Couturier. The SUE WONG brand reigns within a futuristic-hybrid of ancient Mythology catapulted into a most contemporary, seductive and alluring modern Romanticism that sings her design mantra of Beauty ~ Magic ~ Transformation.
To quote China Ambassador Liu Jian: "Sue Wong is a fascinating bridge between the East and the West. She brings together these two worlds in a very powerful way and which is indicative of future commerce between China and America." Indeed, the Chinese-born design-warrior is a testament to what economists predict as the only healthy economic equation that promises a stronger world economy, referred to as "Chimerica".
Sue Wong's Holiday Party proved how and why they are regarded as legendary--an experiential access into the epitome of haute style and the essence of Hollywood Glamour.
ABOUT SUE WONG
Los Angeles designer Sue Wong is known for dazzling fashionistas with her couture inspired glamorous signature style, combining the allure and elegance of iconic bygone eras with a modern sensibility to create timeless works of art. Distinguished by the impeccable quality of traditional couture dress making, her designs are steeped in romance and mystery while being thoroughly modern and accessible to women everywhere. Sue continues to forge new ground in defining fashion that transcends generations and boundaries even as she creates masterpieces of passion and desire expressed through inimitable style. She has dressed countless celebrities including Anne Hathaway, Jessica Biel, Minnie Driver and Taylor Swift. Sue Wong is available from $385 to $829 nationwide at specialty boutiques, major department stores including Neiman Marcus, Saks Fifth Avenue, Nordstrom, Bloomingdale's, Lord and Taylor, Macy's and internationally in over 27 countries.
Media Contact
Greta Kovacs Schmid
Corporate In-House Public Relations
213-388-7400
http://www.suewong.com