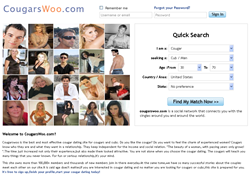 Los Angeles California (PRWEB) December 19, 2014
Older women have a new website to search for available young men, and vice versa. CougarsWoo.com has announced their dating website's official launch. The exclusive dating service is a place for singles to seek out serious "cougar" relationships.
Women are finding more vitality as they age, and the "cougar" trend has greatly advanced in recent years. Now, with the help of CougarsWoo.com, younger men and older women have a safe online place to connect and kindle serious relationships. The new website offers a platform for singles to search for a cougar or cub within a desired age range, as well as the ability to search by geographic area. By featuring country and state searches, age ranges, and gender, singles can seamlessly find available, compatible cougars or cubs.
Currently, CougarsWoo.com has more than 100,000 members. With thousands of new members daily, the website conveys a large pool of cougars and cubs with a secure atmosphere. Instead of meeting in chat rooms or on blind dates, cougars and cubs can use the CougarsWoo.com platform to safely meet, discuss interests, and arrange a face-to-face rendezvous.
CougarsWoo.com also offers a variety of dating tips and articles. Current articles listed on the website include How to Date a Cougar on a Cougar Dating Site, Why Should You Try Cougar Dating?, and 10 Tips You Should Know About Cougar Dating. The website is free to join and use. The unique social network of cougars and cubs is dedicated to helping singles from all over the world connect with compatible matches. Whether singles are searching for a fun date or a serious relationship, CougarsWoo.com is aimed to help cougars and cubs meet. More information about the cougar dating website can be found at http://www.cougarswoo.com.
About CougarsWoo.com
CougarsWoo.com is a newly launched website dedicated to connecting younger men with older women.