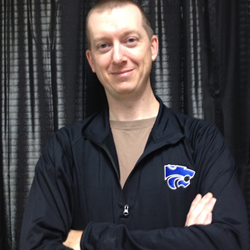 My reaction to winning this contest has been one of absolute shock and elation.
New York, NY (PRWEB) December 16, 2014
Authors First, the virtual writers conference, announced that its inaugural Novel Writing Contest has been won by Christopher Slater's Pup. The author has won a $5,000 prize, a book contract with The Story Plant, an iPad mini, and a year's worth of Story Plant books.
"We received nearly a thousand entries," said Lou Aronica, President and Publisher of both Authors First and The Story Plant, "and the range was wide and impressive. Once we narrowed down the field, the selection process became difficult because there were so many good choices. However Pup truly rose above the pack."
Pup is the story of a clumsy, socially awkward man who inadvertently becomes the key to the nation's safety during an unexpected war. The judges compared it to the work of Kurt Vonnegut and Joseph Heller. Author Slater found inspiration from diverse sources. "As a World War II and Vietnam War living historian," he said, "I have the privilege of meeting many veterans that are true-life heroes. As a teacher, I have the privilege of meeting many students that have potential that they don't seem to comprehend themselves. I realized that these two groups of people were not mutually exclusive. Why not have a story where you meet not only a hero, but also hear what that hero thinks about his own actions? As I began fleshing out the character, I found that Pup had a great deal of humility, which brought forth another question: What happens when a hero never sees himself as someone unique?"
Slater is a career middle school educator in Tennessee. He started writing short stories to share with students in hopes the stories would encourage them to further reading. He started writing longer stories on his own to entertain his friends, and eventually expanded to completing novels. When he received word that he'd won the contest, Slater was stunned.
"I had just walked my students to the buses when I received the message. I stood there dumbfounded. When my coworkers saw the message, they began shouting and hugging me as I continued to stand there like a lump, trying to digest what I was reading. My reaction to winning this contest has been one of absolute shock and elation. Like any writer, amateur or professional, my ultimate hope is for someone to be able to read what I write and feel that they have gained something from it. Winning this competition gives me that opportunity, and I find myself having trouble finding the words to express how that feels. At this point I think that all I can say is 'Wow!'"
The Story Plant will publish Pup in 2015. "Christopher Slater is a uniquely talented writer," Aronica said. "I think this will be the start of a long and successful career for him."
Authors First also announced five runners-up:
I'm Not Her by Cara Sue Achterberg
Memento Mori by T.J. Jordan
See What Happens by Holly Hayes
One Wish by Mallory Hill
The Lost Road by Louie Lozano
All runners-up won an iPad mini loaded with a year's worth of Story Plant books.
"I'm so excited about the talent we discovered with this first contest," Aronica said. "It's a real testament to the writing passion that exists out there. That passion is what initially drove us to create Authors First, so this has been an extremely rewarding experience. I'm already looking forward to our next contest."
Authors First and The Story Plant are divisions of the Stamford, CT-based Studio Digital CT, LLC. Authors First offers new and experienced writers advice through a continually growing collection of sessions with professional novelists and other industry figures.