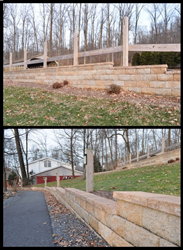 Reuben and Jake Stoltzfus are the founders and CEOs of EWBN; the two specialize in many different fields including building segmental retaining walls
Leola, PA (PRWEB) December 18, 2014
Reuben and Jake Stoltzfus are the founders and CEOs of EWBN; the two specialize in many different fields including building segmental retaining walls. The founders and CEOs have been building segmental walls for over 13 years and believe that in any project, observing and ensuring the littlest details are done correctly, are critical to a lasting structure. Reuben and Jake have the experience, and the knowledge to ensure the structure will be enjoyed for many years to come. Eagle Wings Business Network is certified under ICPI (Interlocking Concrete Pavement Institute) which, ensures structural integrity. Additionally to EWBN, both Reuben and Jake have a great reputation with many excavators and homeowners in Maryland, Delaware, and Pennsylvania.
Marlin H., owner of a retreat located in Pennsylvania, EWBN built many walls on the grounds of the retreat over the past several years. Marlin H. stated regarding EWBN:
"The beginning of each project, Reuben comes and explains the project and additionally comes with creative ideas on how we can build this structure. As the project continues, they continue to find creative solution to any issues that may occur, and they do not cut corners in the process. As problems occur, they don't simply go around the issue, but find a way to solve the problem without compromising the quality; I personally felt that strongly with EWBN."
Segmental walls are built for several different reasons. Many resident customers build these walls to extend the backyard lawn, add more patio square footage, and to extend the driveway to admit more vehicles. Segmental walls are also built to hold back the soil to create a walkway and flowerbed. A segmental wall is the solution for many people, and it has become the solution for many commercial properties as well. Segmental walls block come in many different colors and styles, to ensure customers can find the color and style that matches their property. This is the season to begin to prepare for the upcoming year, and the possibilities are endless.
Media Contact
Reuben Stoltzfus
717-556-0741
info(at)ewbn(dot)net
ewbn.net