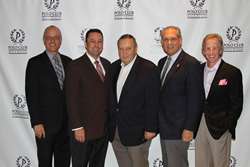 "This is a vibrant new beginning for The Polo Club, showcasing our modern country club" said Brett Morris, Polo Club's General Manager and Chief Operating Officer.
Boca Raton, FL (PRWEB) December 17, 2014
The Polo Club of Boca Raton (http://www.PoloClub.net) unveiled the results of its transformational renovation at the Renovation Celebration, held Dec. 13, 2014, in its main Clubhouse.
More than 2,500 Polo Club Members participated in the festivities, which celebrated the finalization of a $27 million re-imagining of the Club, which began construction in April 2014. All socializing and gathering areas, five dining establishments and the Spa and Fitness Center, as well as the Golf Pro Shoppe and Resort and Tennis Shoppe, were redesigned and reconstructed to create a more open-air, fresher and modern aesthetic. Renovations also included a new grand staircase, new foyers, entranceways, staff offices and reception areas.
"This is a new beginning for Polo Club and was spearheaded by our member leadership and executive team in an effort to deliver the type of luxury experience that our residents expect and deserve," said Brett Morris, Polo Club's General Manager and Chief Operating Officer. "We view this investment as more than a simple freshening. It is a complete re-branding and re-introduction of Polo as a vibrant, active, modern Club, serving a social, connected community."
Special focus was given to transforming Polo Club's five distinct restaurants from traditional eateries to destination dining venues. For example, a unique sushi/tapas bar element was added to the Winners' Circle restaurant. New outdoor terraces overlooking the pool and golf courses expand the Club's event planning options.
Highlights of the renovations include a refreshed oasis-inspired, 35,000-square-foot Spa and Fitness Center. The Spa offers a full range of personal services in a five-star, resort-style setting, complete with a separate reception area; secluded, themed treatment rooms; and a full-service hair and beauty salon. Within the Fitness Center, members enjoy a comprehensive selection of athletic equipment – from cardio and weight machines to Pilates and Kinesis studios – and one-on-one therapeutic services.
Image Design (http://www.imagedesign.com) was challenged by Morris to create interiors that were distinctly "Polo," with shimmering chandeliers, brightened tones and energetic combinations of texture and light. Moving away from the traditional and historic feel of dark woods and deep colors, Image Design incorporated clean lines and open spaces into Polo Club's overall scheme. "What we've been able to accomplish in just a few short months is truly amazing. I know our Members will look at this renovation and say to themselves – Here at Polo, we truly have it all!" said Stanley Goldberg, Polo Club's President of the Board of Governors.
General contractor Suffolk Construction (http://www.suffolk.com) provided preconstruction and construction management for renovations of the Spa and 150,000-square-foot Clubhouse, completing the project 12 months ahead of schedule and under budget, Morris said. The scope of Suffolk's work included demolition, exterior upgrades and expansion of the building's footprint. Additionally, Suffolk oversaw interior upgrades, which included painting, custom millwork, granite countertops, custom carpeting and imported stone and porcelain tile installation.
"One thing that was important to impart was a fresher, younger look," Morris said. "The people that we are trying to attract are 55-65, younger retirees, who want a complete lifestyle in Florida within a community that basically has it all. With Polo's dining destinations, lectures series, recreational amenities and world-class Spa and Fitness Center, it's been said that living here is like being on a cruise ship on land."
About The Polo Club:
The Polo Club of Boca Raton is a premier private golf club, tennis club and resort residential community with over 1,700 homes in South Florida. Located on 1,100 meticulously manicured acres in Palm Beach County, just seven miles from downtown Boca Raton, The Polo Club provides its members with two premier Championship Golf Courses, a nationally recognized tennis facility with 27 Har-Tru courts, a 35,000-square-foot, world-class Spa and fitness center and a myriad of social and dining activities.