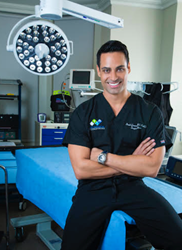 DVT is among the top three leading cardiovascular diseases in the country, yet many people are unaware of its symptoms and associated risks
New York, NY (PRWEB) December 16, 2014
Cardiovascular surgeon Dr. David Greuner, co-founder of NYClinic in Manhattan sat down with NY1 anchor Cheryl Wills to reveal how long periods of immobility can raise a person's risk of developing a dangerous blood clot, and what can be done to lessen the risk. The interview is scheduled to be shown on NY1 News on Tuesday, December 30 starting at 7am and airing every three hours through Wednesday, Dec. 31.
"DVT is among the top three leading cardiovascular diseases in the country, yet many people are unaware of its symptoms and associated risks," says Dr. Greuner. "DVT is a condition that occurs when blood clots form, usually in the legs. These clots can break off and travel to the lungs causing a pulmonary embolism, which if left untreated can be fatal."
"Many have never heard of DVT but it can happen to anyone at almost any age," says Dr. Greuner. About 600,000 Americans are hospitalized with DVT each year. DVT can be a silent killer that presents no symptoms at first.
Dr. Greuner says a new combination blood test can detect 3 risk factors that affect 10% of the population - One factor affects women disproportionately. 
Reducing the risk of blood clots
Dr. Greuner says that people can reduce their chances of developing a deep vein thrombosis (DVT) during long periods of sitting by occasionally standing and stretching their legs, or if possible by lying down and elevating their feet above their heart for a few minutes several times a day.
 
Advanced ultrasound imaging assists in making optimal treatment decisions for DVT
"When DVT is diagnosed an advanced medical imaging device using intravascular ultrasound (IVUS) is used to assist surgeons in planning the best treatment," says Dr. Greuner. "IVUS employs a catheter with a miniature high definition ultrasound probe that can enter the blood vessel and measure the interior of the vessel with high accuracy to guide therapeutic decisions."
NYClinic is a division of NYC Surgical Associates with locations in Manhattan, Pearl River, NY, Long Island, The Hamptons and New Jersey. Call 888-286-6600 for information on screening or treatment for DVT and visit TheNYClinic.com
#####