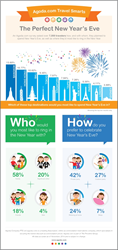 Agoda.com's most recent Travel Smarts survey asked people where, how, and with whom they would prefer to spend New Year's Eve.
Singapore (PRWEB) December 17, 2014
Agoda.com, one of Asia's leading hotel booking sites and part of Nasdaq-listed Priceline Group (Nasdaq:PCLN), announced today the results of its most recent Travel Smarts study which shows Bangkok is the world's favorite destination for ringing in the new year. It also showed that most people want to celebrate the New Year with loved ones.
The survey, conducted online in November, 2014, asked more than 7,000 Agoda.com travelers to pick where they'd like to celebrate the New Year from among 24 destinations. Bangkok got 13.6% of the votes, followed by Hong Kong (10.77%), Bali (10.62%), Tokyo (9.45%) and Singapore (7.97%).
When asked who they wanted to spend New Year's Eve with, an impressive 78% of the survey respondents chose family or significant other, with only 18% choosing friends. Four percent of travelers said they wanted to celebrate alone.
Most travelers also said they preferred low-key celebrations to big parties. Just 27% of travelers surveyed said they wanted to ring in the New Year at a massive public event such as Times Square's ball drop or the Taipei 101 Countdown. Forty two percent said they'd prefer a private party with friends or loved ones and 24% said relaxing and watching the countdown at home.
People who love to travel apparently also love to celebrate. Only 7% of respondents said they would be in bed asleep before the clock chimed midnight.
For the full raking of the 24 cities and a full-size infographic, visit the Agoda.com Media Room.
For more information about the study, please contact Nico Marco, public relations leader, at nico.marco@agoda.com.