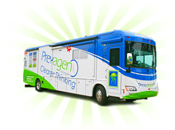 MADISON, Wis. (PRWEB) December 17, 2014
Quincy Bioscience announces the start of the 2015 Better Memory Tour. The Prevagen Express will travel to various health food centers and health expos across the country to educate the public on the importance of taking proactive steps toward better brain health.
Free memory surveys that assess everyday working memory will be offered to all attendees. Participants will be given the opportunity to sign up for online memory assessments to be taken at regular monthly intervals and track their performance over time. Attendees will also have the opportunity to exercise their minds with exclusive brain games.
The Prevagen Express kicks off the tour at the beginning of January, starting in Washington, D.C. See below for a detailed schedule:

Jan. 10-11, Health and Fitness Expo in Washington, D.C. from 9 a.m. to 4 p.m.
Jan. 20-21, Winter Texan Expo and Health Fair in McAllen, Texas from 9 a.m. to 3 p.m.
Jan 27-28, Snowbird Extravaganza in Lakeland, Florida from 9 a.m. to 4:30 p.m.
Feb. 2-3, Snowbird Extravaganza in McAllen, Texas from 9 a.m. to 4:30 p.m.
Feb. 7, Radiant Health in Baton Rouge, Louisiana from 11 a.m. to 2 p.m.
Feb. 10, Virginia's Health Foods in Mobile, Alabama from noon to 3 p.m.
About Quincy Bioscience:
Quincy Bioscience is a biotechnology company based in Madison, Wisconsin, focused on the discovery, development and commercialization of novel technologies to support good health in aging. The company's products focus on supporting memory and cognitive health. Quincy Bioscience is set apart by its cutting-edge applications of the patented protein apoaequorin, which is breaking new ground in the area of brain health.