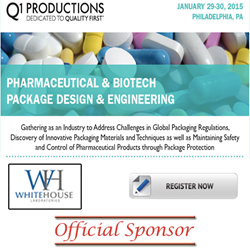 The success of innovative educational programs like this Pharma and Biotech Package conference are highly dependent on support of leading companies like Whitehouse Laboratories
Philadelphia, PA (PRWEB) December 18, 2014
Whitehouse Laboratories is excited to announce that it has agreed to sponsor and participate in Q1 Productions Pharmaceutical and Biotech Package Design and Engineering Conference to be held January 29 – 30th in Philadelphia, PA. Featuring key speakers and presenters from many of the leading Pharma and Biotech companies, the program will be instrumental in helping attendees gain up to date insights on key packaging issues. Pharmaceutical and biotech packaging experts will cover a wide range of topics, including packaging regulatory challenges, new safety and efficiency-oriented materials, graphic design theory, and the implementation of primary and secondary packaging. In addition, interactive workshop sessions will give attendees the opportunity to share thoughts and ideas with one another to stimulate industry innovation. The program and format (See Agenda) are also expected to present excellent networking opportunities for all participants.
"The opportunity to sponsor a Q1 program dedicated to pharma and biotech package issues aligns directly with the comprehensive service offering Whitehouse Laboratories can provide in this critical area of development and quality control," states Whitehouse Labs COO Mark Stier. "We are confident that the speakers, under Q1's leadership and direction, will enable all attendees to walk away with an improved knowledge base specific to their package issues."
"We appreciate the support that Whitehouse Laboratories granted this program through their sponsorship," comments Chelsea Beyerman, Conference Producer for Q1 Productions. "The success of innovative educational programs like this Pharma and Biotech Package conference are highly dependent on support of leading companies like Whitehouse Laboratories. The experience and knowledge they bring to this topic area only help to make the entire program more valuable for all involved."
Pharmaceutical and biotech packaging is a diverse and exciting industry, with organizations spending millions of dollars to ensure that a final product meets the utmost quality, efficiency, and safety standards. Adhering to global regulations surrounding packaging, including required package information, materials standards, tracking, and temperature control, presents many challenges in the design and distribution of the final product. Packaging professionals are continuously working to balance the quality and safety of primary and secondary packaging with the need for an easy-to-use and attractive final product.
All of the key service area directors for Whitehouse Laboratories will be available at the conference to discuss and review all presentation topics. For additional information on attending the conference, please visit http://www.q1productions.com/pharmapackaging.
About Whitehouse Laboratories
The Testing Partner to Manufacturing Companies, Whitehouse Labs is an FDA regulated, DEA Licensed, ISO 17025 and ISTA certified contract service provider to the pharmaceutical, medical device, personal and consumer product industries. Whitehouse Laboratories offers analytical services for the testing of materials, finished products, container and package systems that enable our clients to meet and exceed the required quality standards established by the key regulatory agencies.
About Q1 Productions
About Q1 Productions
Q1 Productions designs and develops webinars, training courses, conference programs and forums aimed at specifically targeted audiences throughout highly regulated industries in order to provide strategic learning and timely program content. Through a highly structured production process focused on research calls with end-users and key stakeholders in the industry, our team is able to understand the immediate business concerns of today's leading executives. Whether focusing on new or pending legislative and health policy issues or enhanced technologies or processes that will drive efficiency, our programs provide solutions to the urgent educational and information needs of our attendees. Although historically focused specifically on the life sciences market, we also have a solid record of cross-industry programs as well as a growing number of educational opportunities positioned for regulated industries outside of the life sciences. At this time our programs are hosted throughout the United States and Europe, with participants also joining our events from Latin America, Asia and the Middle East, as these markets continue to experience considerable growth.