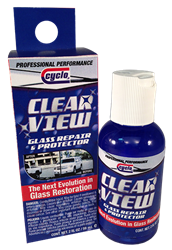 "We created a product that not only repairs, but also protects against any future damages too." - Mike McGlynn, Director of Research & Development
Jupiter, Florida (PRWEB) January 08, 2015
Cyclo Industries, a leading global automotive brand for over 50 years, announced today the launch of Clear View™, an at home solution to repair and prevent damages caused by environmental elements to glass windscreens.
With groundbreaking technology and industry-first innovation, Clear View is a proprietary blend of polymers that works together to polish and protect damaged glass surfaces.
"In our international markets, there are a growing number of people looking for an easy at home solution to repair windscreens," said Mike McGlynn, Director of Research & Development. "We created a product that not only repairs, but also protects against any future damages too."
Clear View offers an innovative solution to the marketplace, eliminating the need to replace scratched or etched windscreens. With the launch of Clear View, the consumer now has a more affordable and accessible option to not only fix a damaged windscreen, but also to protect it against more damage.
Cyclo Industries delivers high performance products in the automotive, heavy duty / fleet, industrial, agricultural and marine services. Cyclo Industries features such brands as Rain Dance, Tanners Preserve, Rally, and No. 7. For more information about Cyclo Industries and the new Clear View product, please visit http://www.cyclo.com