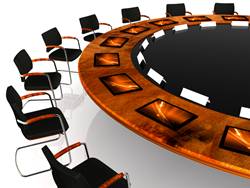 As we go through the complex and lengthy process of third party scrutiny, we need all hands on deck to move the Association towards final accreditation of our new designation....CEO and Chairman Ed Morrow
Middletown, OH (PRWEB) December 18, 2014
The election process permitted any active member in good standing of the Association to volunteer. Members of the IARFC could also nominate another member for service. "This year we had an unprecedented number of very high caliber candidates for three Board Director positions," related CEO and Association Chairman Ed Morrow. "It is gratifying to see these Financial Professionals take an interest in the future of the Association."
Each candidate went through a vetting process and all qualified for nomination based on their qualifications, continuing education and continuous good service to their clients. Two candidates, Jon Rogers of Rogers Financial Group, LLC, Greenville, SC and Isabel Cooper of Edelman Financial Services, Ashburn, VA were re-elected to second terms on the Board. Mayo Woodward of Ameriprise Financial Services, Inc. Birmingham, AL will be joining as a new Director thus filling the third open position.
"I am thrilled to be part of a such a great organization where the focus is on ethics and treating clients with the utmost respect." stated newly elected Board Member Mayo Woodward. "Being on the Board gives me the chance to continue to drive the mission of the IARFC and share it with others."
The newly elected Directors will be attending the Annual Board Meeting and taking part in the Semi-Finals judging of the National Financial Plan Competition at corporate headquarters in Middletown, OH in March. Those not selected this year will be recruited to assist the IARFC in the projects that are on tap for 2015.
"This next year will be an extremely important time for the IARFC," continued Morrow. "As we go through the complex and lengthy process of third party scrutiny, we need all hands on deck to move the Association towards final accreditation of our new designation. The Board will be instrumental in fulfilling these goals.
More information on the IARFC and the current Board can be found at http://www.iarfc.org.