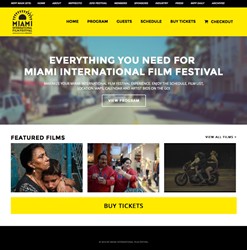 "MiamiFF is the cornerstone of Miami's burgeoning film culture, and we're proud to work with their team and Miami Dade College to make this year the best festival in its amazing history." - Robby Campbell, Creative Director
Miami Beach, Florida (PRWEB) December 22, 2014
Ruxly Creative has been selected by Miami International Film Festival (MiamiFF) as their creative advertising partner for MiamiFF 2015. Monday night, at MDC's Tower Theater, MiamiFF executive director Jaie Laplante unveiled the 2015 poster, the first in a series of marketing assets generated by Ruxly to spur awareness and excitement about the Festival.
"We are very excited to represent the Miami International Film Festival in its 32nd year," said Robby Campbell, Creative Director of Ruxly Creative. "MiamiFF is the cornerstone of Miami's burgeoning film culture, and we're proud to work with their team and Miami Dade College to make this year the best festival in its amazing history."
The official poster for the 32nd edition features legendary writer, producer and director Orson Welles strolling the Miami Beach boardwalk in 1943. Adding a layer of Welles-ian mystery, the photographer of this remarkable 70-year-old image is unknown. The festival invites the public to help solve this mystery as it gears up for its international film premieres and festival activities taking place March 6 - 15, 2015.
MiamiFF takes place March 6-15, 2015, with a global slate of films and a multitude of premieres and genres being featured. Ruxly will create media for the 2015 commercial campaign, an awareness web series, the redesign of the ticketing website, a new video tag for all films, and most recently the design of the MiamiFF32 Poster.
About Ruxly Creative
Based in Miami, FL, with offices in San Francisco and New York, Ruxly Creative is one of the fastest growing boutique creative agencies in the country. Ruxly works with brands and organizations to break through creative marketing plateaus and to find fresh messaging to engage consumers. The company is comprised of units in the following disciplines: Creative Strategy, Visual Media Production, Audio Branding, Digital Technology Development, and Social Marketing. For more information, visit http://www.ruxly.com or email Brandon(at)ruxly(dot)com.