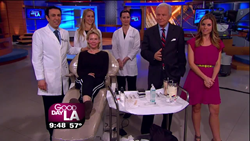 Los Angeles, CA (PRWEB) December 18, 2014
On December 14, 2014, Yahoo Health posted an online article titled "6 Bizarre Plastic Surgery Procedures Americans are Asking For" that discusses some of the more unusual cosmetic surgeries available to US patients. There is a surgery to make wearing high heel shoes more tolerable and earlobe reconstruction to repair the damage causes by gauging, the process of deliberately expanding earlobe piercings to accommodate certain types of jewelry. (see: goo.gl/srlDGp)
"Lists like this tend to sensationalize certain aspects of plastic surgery, but, in reality, often include procedures that are not that strange," says Dr. Simon Ourian, Medical Director of Epione Beverly Hills. "To me, gauging is a strange practice, while repairing the damage done to one's earlobe makes perfect sense."
According to the Yahoo Health article, other bizarre plastic surgery procedures include Zerona treatments to reduce thigh circumference. Zerona uses a laser to melt the outside layer of fat which is then drained by the body's natural processes. Eyelash transplants using hair from the back of the scalp is said to be effective but performed by only a few physicians. Finally, the article describes efforts being made to introduce temporary breast enlargement treatments.
"I practice evidence-based medicine and will not likely introduce any of the procedures described in this article to our patients until more data is available," says Dr. Ourian.
Dr. Ourian has been a pioneer in laser technology and non-invasive aesthetic procedures including Restylane, Juvéderm, Radiesse, Sculptra, and CoolSculpting. These treatments are used for the correction or reversal of a variety of conditions such as acne, acne scars, skin discoloration, wrinkles, unwanted fat, stretch marks, varicose veins, cellulite, and others. More information about plastic surgery can be found on Epione's website.