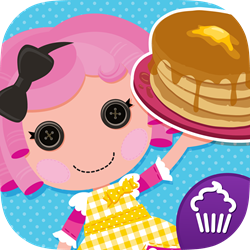 New York, NY (PRWEB) December 18, 2014
Cupcake Digital and MGA Entertainment are pleased to announce the release of Lalaloopsy Diner, a new app based on the #1 collectable doll brand with over 130 different characters. For a limited time the app will be available for an introductory price of 99 cents (December 18 & 19 only). After the introductory offer expires, Lalaloopsy Diner will be exclusively available for $2.99 on the App Store for iPhone, iPad and iPod touch or at http://www.AppStore.com. In the coming weeks, the app also will be available for download on the Amazon Appstore, Google Play and other app stores.
Lalaloopsy Diner features a fun and fast-paced cooking activity that takes players from one whimsical Lalaloopsy location to the next. Lalaloopsy characters order up pancakes, pizza, hamburgers, sausages, waffles and more. Every correct order earns a player buttons, redeemable for bonus accessories throughout the game. Players can choose to customize the interior of the diner or upgrade cookware. This new app is a smorgasbord of themes, settings, foods, and fun for kids of all ages.
The new Lalaloopsy Diner app is part of the MGA Entertainment overall brand marketing strategy for the "Sew Magical! Sew Cute!™" world of Lalaloopsy. The app is inspired by the Lalaloopsy TV series, which airs on Nick Jr.
###
About Cupcake Digital
Founded in 2012, Cupcake Digital gives kids the opportunity to interact with the characters they love by transforming children's entertainment properties into award-winning apps. We bring Peanuts, Strawberry Shortcake, Yo Gabba Gabba!, RIO, How To Train Your Dragon, The Smurfs, Madagascar, Shrek, Kung Fu Panda, Wow! Wow! Wubbzy!, and many others to life in enhanced storybook, imaginative play and learning apps. Our team of designers, developers, marketers and all-around app lovers come together to make digital products that kids love and parents value. Cupcake Digital apps are widely available to consumers on the App Store, Amazon Appstore for Android, Google Play, Barnes & Noble App Store for NOOK and others for a wide variety of devices. For more information about Cupcake Digital, please visit http://www.cupcakedigital.com.
About MGA Entertainment
MGA Entertainment, a consumer entertainment Products Company headquartered in Van Nuys, California, manufactures innovative lines of proprietary products for the toy and consumer electronics market. The company also licenses its products in such areas as home décor, stationery and sporting goods. The MGA family includes award-winning brands such as Little Tikes®, Lalaloopsy™, Moxie Girlz™, Mooshka™, Bratz®, and Zapf Creation®.