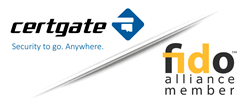 For the last decade, certgate has successfully developed solutions to secure mobile devices. We know that a multi-step authentication process can minimize security risks.
Nuremberg, (PRWEB UK) 19 December 2014
German mobile security innovator certgate has announced that the company is joining the FIDO Alliance. The international FIDO Alliance (Fast IDentity Online) launched in February 2013 to develop user-friendly alternatives to passwords by establishing industry standards for universal strong authentication.
Mobile devices store an increasing amount of personal data, and more and more people use these personal devices in professional environments. At the same time, the number of stolen passwords, hacked emails and compromised cloud services is on the rise. For years, privacy advocates have pointed to the potential danger of this development and have urged the industry to develop solutions to secure handsets in a manner that is both secure and user-friendly.
The FIDO Alliance, which is neither restricted to a specific industry nor a particular technology, is working with members such as Microsoft, BlackBerry, Google and Paypal on the development of new authentication standards. The joint development of open, scalable and interoperable mechanisms improves security and enables a simpler, easier-to-use authentication than username-and-password systems. FIDO U2F (Universal Second Factor) two-factor authentication specifies a form of token used with a PIN. Thus, two factors are employed: password (knowledge) and token (ownership).
The German company certgate is a leader in the field of secure token and user-friendly security solutions. Stefan Schmidt-Egermann, Head of Sales and Marketing, states, "For the last decade, certgate has successfully developed solutions to secure mobile devices. We know that a multi-step authentication process can minimize security risks. certgate microSD is an integrated smart card that can be transferred instantly to smartphones and tablets to enable mobile devices with secure and automated processes. FIDO authentication eliminates prevailing password dependencies and the need to manage highly complex passwords and associated policies. Improved usability promotes consumer acceptance, and facilitates deployments and adoption. We bring our expertise as a supplier of high quality security solutions for mobile devices to the FIDO Alliance, and in the interest of our customers, we will support open standards."
"We are excited to welcome our newest associate member certgate," said Michael Barrett, FIDO Alliance president. "The FIDO vision of universal strong authentication promises better security, enhanced privacy, more commerce and expansion of services throughout digital industries. certgate's addition to our Alliance supports our industry goal to make user authentication easier and safer for all parties."
About certgate
Based in Nuremberg, Germany, certgate is an innovator in mobile IT security. As a cross-platform supplier of high-quality security solutions for mobile terminal devices – for Android, iOS, BlackBerry as well as Windows systems – certgate was the first in the world to fit a flash memory microSD card for use in smartphones, tablets and PCs with the full encryption and signature functionalities of a smartcards. certgate makes mobile IT devices secure – from the hardware to protection of the operating system through to the application level – using patented technology. Together with partners such as MDM manufacturers, application developers, integrators and mobile radio specialists, certgate creates products with the highest security level and additional user comfort. The containment of information abuse is combined with cost-reducing applications to the benefit of the user. With its products and solutions, certgate supports the mobility strategies of its customers throughout the world.
About the FIDO Alliance:
The FIDO (Fast IDentity Online) Alliance, http://www.fidoalliance.org, was formed in July 2012 to address the lack of interoperability among strong authentication technologies, and remedy the problems users face with creating and remembering multiple usernames and passwords. The Alliance is changing the nature of authentication by developing standards-based specifications for simpler, stronger authentication that define an open, scalable, interoperable set of mechanisms that reduce reliance on passwords. FIDO authentication is stronger, private, and easier to use when authenticating to online services.