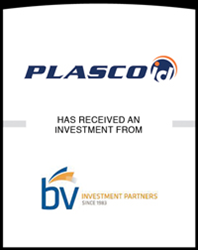 CHARLOTTE, NC (PRWEB) December 18, 2014
BlackArch Partners is pleased to announce that Plasco ID ("Plasco"), the leading supplier of card-based identification solutions, has partnered with BV Investment Partners, a middle market private equity firm focused on the information and business services and communications sectors. The investment by BV Investment Partners will support the continued growth of Plasco.
BlackArch was retained by the Plasco management team to serve as their financial advisor. B2B ecommerce and security products and services are key focus areas for BlackArch's Business & Professional Services practice.
Through its direct sales force, distribution partners, and award-winning websites, IDWholesaler.com and IDWZone.com, Plasco sells and supports ID card printing systems, software, cameras and technology cards as well as related consumables to countless vertical markets. Plasco has served over 100,000 customers in the United States and internationally, including many Fortune 500 companies and has been named to the Internet Retailer Top 500 list for six consecutive years.
"The entire BlackArch team is extraordinary," said Alan Mendelson, President and CEO of Plasco. "They went above and beyond in preparing our team for every phase of the process and always prioritized the interests of our shareholders and employees. We look forward to working with 'our partners and friends' at BlackArch again in the future."
About Plasco
Founded in 1983, Plasco (Plascoid.com), is founder/family owned and operates from two distribution centers in Miami, FL and St. Louis Park, MN. Plasco serves the full lifecycle identification and authentication needs of small and medium-sized businesses ("SMBs"), enterprise and government customers through its direct sales force and through its two websites IDWholesaler.com and IDWZone.com. In addition, Plasco operates a value-added distribution business, which provides incremental scale and purchasing power with vendors.
About BV Investment Partners
BV Investment Partners, based in Boston, MA, is a middle-market private equity firm. Since its founding in 1983, BV has invested more than $2.6 billion in over 80 companies, actively targeting investments in the information and business services and communications sectors.
About BlackArch Partners
BlackArch Partners is a leading middle-market investment bank offering a full spectrum of advisory services to financial sponsors, private companies and diversified corporations. BlackArch addresses the needs of entrepreneurs, founders and shareholders of private companies with specialized services that include M&A advisory, strategic advisory and private capital solutions. Headquartered in Charlotte, NC, with offices in Houston, TX, BlackArch features a total of 12 industry-focused practices that cover all sectors of interest to middle-market investors; BlackArch professionals have closed over 300 transactions in 16 countries on four continents. Please visit our website, blackarchpartners.com, for more details.
Securities offered through BlackArch Securities LLC. Member FINRA and SIPC. Testimonials may not be representative of the experience of all clients. Testimonials are not a guarantee of future performance or success.