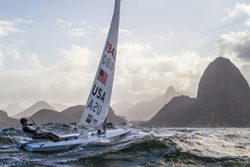 With our mutual commitment to high performance, technical innovation, and sustainable results, this is a natural partnership on many levels.
Portsmouth, R.I (PRWEB) December 19, 2014
The US Sailing Team Sperry Top-Sider today announced a major partnership with Sunbrella® fabrics, the leading producer of performance and marine canvas around the globe. Effective immediately, Sunbrella will be named as a Gold-level sponsor of the US Sailing Team Sperry Top-Sider, the nation's Olympic and Paralympic sailing team, and also as the presenting sponsor of ISAF Sailing World Cup Miami, North America's premier Olympic and Paralympic classes regatta. A North Carolina-based brand with deep roots in the American sailing community, Sunbrella will now assume a prominent role in fostering the future of high-performance sailing the United States.
"Sunbrella and the US Sailing Team Sperry Top-Sider share many core principles, and we are very excited to bring them onboard," said Josh Adams, Managing Director of US Olympic Sailing. "With our mutual commitment to high performance, technical innovation, and sustainable results, this is a natural partnership on many levels. By joining our team's Rio 2016 campaign, Sunbrella adds tremendous support to US Olympic and Paralympic athletes."
Founded in 1961, Sunbrella began offering marine upholstery products in the mid 1970's. By producing innovative canvas and fabrics that were exceptionally weather-resistant and easy to maintain, Sunbrella quickly became a dominant player in the marine industry. Fabric made by Sunbrella's parent company and manufacturer, Glen Raven, was notably used for the American flag planted on the moon by Apollo 11 astronauts in 1969. With a core brand identity that celebrates the best of what America has to offer, Sunbrella now will adorn the hulls and sails of US Sailing Team Sperry Top-Sider athletes as they make their push towards the Rio 2016 Olympic and Paralympic Games.
"There has been a special bond between Sunbrella and the sailing community for nearly 50 years as sailors the world over have adopted Sunbrella as their fabric of choice," said Gina Wicker, creative director for Glen Raven, Inc., makers of Sunbrella fabrics. "Our alignment with the US Sailing Team Sperry Top-Sider as a Gold Level partner is a natural fit, as the team of athletes represents the best in our country, known for its endurance, commitment to excellence and reputation of dependability. We are proud to support the team's quest for Olympic and Paralympic greatness in 2016."
About Sunbrella Fabrics
For nearly 50 years, Sunbrella® fabrics have set the standard for the performance of marine canvas all around the globe, offering durability, fade resistance and easy care. First introduced in 1961 as an awning fabric, the Sunbrella brand revolutionized the way the world thinks about how beautiful fabrics look, feel and perform. The Sunbrella brand is the leading premium fabric choice today not only for marine, but also for awning and upholstery, including boat interiors. Sunbrella fabrics are manufactured and marketed by Glen Raven, a 134-year-old family-owned company based in North Carolina with operations worldwide. For more information on the Sunbrella brand, including fabric resources, visit http://www.sunbrella.com.
About the US Sailing Team Sperry Top-Sider
The US Sailing Team Sperry Top-Sider is managed by the United States Sailing Association (US Sailing), the national governing body for the sport of sailing and sailboat racing. The top boats in each Olympic and Paralympic class are selected annually to be members of the US Sailing Team Sperry Top-Sider. US Sailing helps these elite athletes with with financial, logistical, coaching, technical, fitness, marketing and communications support. The title sponsor of the team is Sperry Top-Sider; other sponsors include Gold-Level partner Sunbrella and Silver-Level partners Harken, Team McLube and Groupe Beneteau. Yale Cordage is a team supplier. The US Sailing Center Miami is an Olympic training site. Oakcliff Sailing and Clearwater Community Sailing Center are US Sailing Team Sperry Top-Sider Training Centers. Chubb Personal Insurance sponsors US Sailing's National Team Tour, a nationwide presentation program for US Sailing Team Sperry Top-Sider athletes. For more information, please visit http://www.ussailing.org/olympics
The United States Sailing Association (US Sailing), the national governing body for sailing, provides leadership, integrity, and growth for the sport in the United States. Founded in 1897 and headquartered in Portsmouth, Rhode Island, US Sailing is a 501(c) (3) non-profit organization. US Sailing offers training and education programs for instructors and race officials, supports a wide range of sailing organizations and communities, issues offshore rating certificates, and provides administration and oversight of competitive sailing across the country, including National Championships and the US Sailing Team Sperry Top-Sider. For more information, please visit http://www.ussailing.org